Accessibility awareness has come a long way.
This is true for the global software community, and also for me. Before I started working for the Intuit Accessibility team as a summer intern in 2017, I didn't realize that companies had teams dedicated to accessibility. 
Accessibility empowers customers who benefit from using Intuit products like TurboTax, QuickBooks and Mint to manage their financial lives. I've seen the Intuit accessibility movement grow from a small, three-person team to more than 1,200 Accessibility Champions across the organization.
 As we celebrate Global Accessibility Awareness Day (GAAD) this week, I have been reflecting on my journey with Intuit, both as a part of the accessibility movement and as a Deaf employee who benefits from it.
Paving a Career Path: Accessibility Intern to Technical Data Analyst 
During my senior year at the Rochester Institute of Technology, studying management information systems, I wasn't sure what path I should take after graduation. I was feeling uncertain about whether I wanted to work in a deaf environment with a majority of deaf colleagues, or if I would feel comfortable working in a hearing environment knowing that I would be missing a lot of things that were conveyed via spoken language. 
During the summer of 2017, I started an internship with Intuit's accessibility team. I had no idea what to expect. From the first day, I was amazed by how welcoming and friendly employees were and by how normally they treated me. Ted Drake, Global Accessibility Lead, and Sagar Barbhaya, Accessibility Engineering Lead, had even taken an American Sign Language (ASL) class, before I started, so that they could communicate directly with me.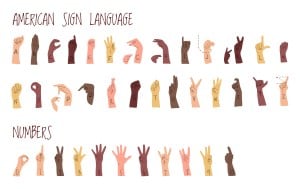 During onboarding, I immediately encountered an accessibility gap that was a barrier to some new employees, including the deaf and hard-of-hearing. None of the training videos had closed captioning. Upon exploring a variety of videos across the company, I learned that all of the internal videos also lacked closed captioning. With the support of Ted, I added this to the list of projects to tackle during my internship. 
Throughout that summer, I loved working for Intuit. I was inspired by the warm and supportive company culture, the passion and commitment of Global Accessibility Leaders, Ted and Sagar, and the impact we were making. At summer's end, I began another internship with Deaf and Hard of Hearing Services for the State of Indiana, and continued working for them as a contractor after graduation. 
As luck would have it, about a year later Ted reached out and asked if I'd be interested in re-joining the Intuit Accessibility team, which I was. In the fall of 2019, I was given another opportunity, this time to deepen my data analytics skills by splitting my time between Intuit's Accessibility and Customer Connect teams. In 2020, I fully transitioned from my role as an Accessibility Content Specialist to a Technical Data Analyst position with Customer Connect, a research operations team. As a cross-platform, cross-product team, we support employees across the business who want to conduct research projects with customers, non-customers, and Intuit employees. 
Fortunately, at Intuit I'm able to pursue my career aspirations and while still being able to work part-time with the Accessibility team. 
 Becoming an Accessibility Champion
A special moment for me was achieving one of my long-term goals since joining the company, becoming a Level Three Accessibility Champion. By dedicating 10 percent of my time to supporting the Accessibility team, I'm able to help bridge the gap between Intuit and the deaf and hard-of-hearing community to improve both customer and employee experiences. 

Intuit Accessibility Champion Program
Level 1 – Explore the ideas and challenges of accessibility, and gain the tools to make better product experiences for all customers.
Level 2 – Deepen your dedication to accessibility with tasks focused on customer empathy and domain expertise, including online training, customer interviews, volunteering, and creating accessible materials
Level 3 – Become a subject matter expert with responsibilities for your product, not just your immediate team, and help guide product design and development for the future of the company. Devote 10 percent of your time to accessibility projects. 
Learn more about Intuit Accessibility Champions.
 It has been rewarding to see how the closed captioning project (begun in 2017) has been adopted by other Accessibility Champions. It has been surreal to see others passionately engaged in this project, and I am deeply touched to see their sincerity and empathy. 
Applying My Experience to Help Remove Barriers for Others
As with that project, much of my accessibility work has been focused on solving problems that I've experienced as a person with a disability, and motivated by not wanting others to experience the same frustrations. 
Not all barriers are as easily addressed. 
An example of this would be meetings. One of the ironies of the pandemic is how it benefited some employees when everyone at Intuit, globally, began working remotely in 2020.
In the past, virtual global meetings were a challenge for remote workers to follow. Some team members would join in different conference rooms. Others (like me and my interpreters) would join individually. Most of us have had the experience of speakers being far from the microphone or talking over one another. Sometimes, I would ask people to repeat themselves. At other times, I would let it slide because I didn't want to repeatedly interrupt the meeting, knowing that I would need to be assertive in following up with people to have things clarified or to fill in information gaps. While this can be a strategic skill for any worker, it places a more significant burden on someone with a disability. 
With the transition to a virtual workplace, suddenly everyone had their own screen and microphone. People were no longer far from the microphone and the dialogue didn't overlap, making it easier for interpreters to follow the conversation. If I didn't understand something, other people probably didn't either. 
As many Intuit employees head back to the office, my hope is that we will keep some of the habits formed in a virtual world that have fostered accessibility and inclusion, and benefited those of us who are full-time remote workers. 
Learn more about accessible meetings.
While I've encountered a variety of accessibility barriers over the years at Intuit, it has been a tremendously positive experience because my managers and fellow employees have been so supportive of making changes to help remove those barriers. 
However, I look around and do not see enough representation of employees with disabilities. 
This has led to another project aimed at addressing another accessibility barrier. I have heard various managers express concern about whether their team budgets would be sufficient to cover the cost of accommodations when hiring an employee with disabilities. Over the past year, we have been working hard to address that concern. With support from Julie Sanders, Workplace Accommodations Manager, and Ted, we are well on our way to putting a centralized workplace accommodations fund in place, and an expanded set of services and resources for managers that should make it easier for Intuit to hire employees with disabilities, and for managers to support them. 
GAAD 2022: Raising Awareness for One Billion People Worldwide 
Global Accessibility Awareness Day is all about highlighting the critical importance of removing barriers and unlocking possibilities for the estimated one billion people worldwide with disabilities. 
Companies like Intuit are driving change through grassroots initiatives like the Accessibility Champions program, with support and advocacy across the company. I am proud to be a part of it, and grateful to Ted, Sagar, and so many of my colleagues for their passion and persistence. They are making a meaningful impact in the day-to-day lives of Intuit employees and of customers with disabilities. 
To learn more about Intuit and our commitment to accessibility, check out the following resources.  
And, if this blog has piqued your interest in what it's like to work for Intuit, you can learn more about career opportunities at Intuit, and join our talent community.