How falling in love with the problem and #CustomerObsession have led Intuit to successfully self-disrupt and thrive in this #VUCA world for over three decades now.
When Intuit launched Quicken in 1983, there were at least 46 companies already offering software to help people track their finances. Our ever so witty former CEO Brad Smith, in an article penned for the Harvard Business Review (HBR), wrote: "We sometimes joke about how instead of having the first-mover advantage, Intuit had the 47th mover advantage."
The original version of Quicken offered only one-third the features that many competing products had, yet it almost instantly became a market leader. How did we manage to pull that off? Well, it was designed with ease of use in mind, making the product extremely intuitive. The product also identified and solved one fundamental problem – customers could manage their finances without being an expert in finance. And there lies the answer to what Fortune had asked about us long back, Why isn't Intuit Dead?
From creating Quicken to launching QuickBooks for small-business accounting and TurboTax for personal tax preparation in the 1990s, Intuit has consistently disrupted the market by embracing different technology waves from DOS, to the Web, to mobile and cloud, and putting them to use in service to our customers' most pressing financial needs.
Method to the madness
Lest you think all our undertakings are just a matter of some adventurous thrill, let me assure you that there's a well thought-out method to this penchant for disruption. And it is seeded in our obsession with the problems we want to solve for our customers.
Intuit adheres to the credo that innovation starts with falling in love with the problem and not with the solution. This belief has culminated in two well-defined engineering principles around which all our efforts revolve. They are Customer Driven Innovation (CDI) and Design for Delight (D4D).
What's in it for startups?
There's a straightforward inference for every startup from the Intuit story. Before venturing into designing a solution, always ask a fundamental question: What business problem are we seeking to solve and for whom? Staying ahead of the curve relentlessly for more than three decades in a world of VUCA (volatile, uncertain, complex and ambiguous) is no mean feat. Intuit achieved this by identifying the customers' key pain-point and embarking on a nonstop journey of iteratively improving how we solve for it.
Falling in love with the problem
The Customer Driven Innovation (CDI) is about:
Finding an unsolved customer problem
Seeing if you have the competency to solve it, and
Determining if it will give you a competitive edge in the market.
When Intuit's founder Scott Cook studied the characteristics of all our new product launches more than a decade back, he found significant differences between the successes and failures. In the successes, the three criteria mentioned above were all true. And he concluded, "Success lives at the intersection of these three criteria," which came to be the foundation of CDI.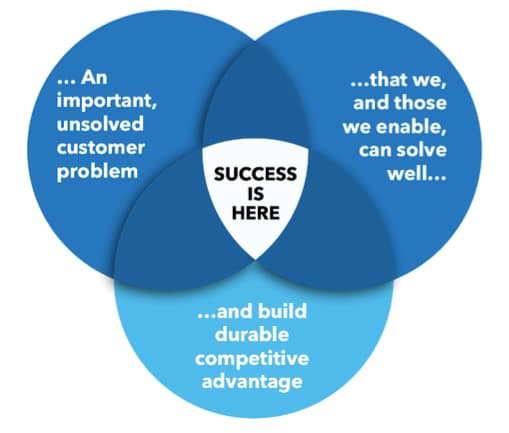 Identifying a problem we alone can successfully solve is at the core of CDI. And we believe that's what makes our solutions tick. Brad Smith aptly summarizes this approach, "We bring the customer's voice in everything we do. It means every team and every project doesn't even start until they have a clearly defined customer problem statement."
Creating evangelists
Design for Delight (D4D) is about going beyond customer expectations in delivering ease and benefit, and evoking positive emotion throughout the customer journey so that their Intuit experiences transform them into evangelists and even net promoters. And here's how we get there:
Have deep customer empathy that allows us to embrace the unexpected
Go broad to go narrow to create a large quantity of ideas before narrowing to the best
Do rapid experiments with customers that help us discover the truth before we build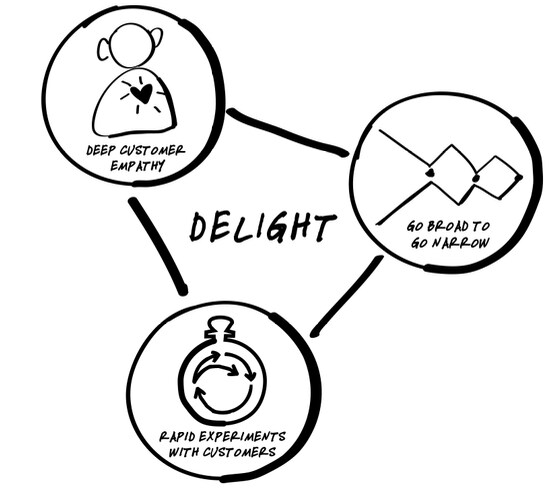 Many companies launch products that are technologically amazing, but not necessarily the result of customer empathy. Conversely, Intuit believes in observing customers and understanding firsthand what real problems they face.
Getting closer to real people doing real work
The foundation for CDI and D4D is called "Follow Me Home", or FMH. In 1989, Scott Cook introduced this concept with the conviction that creating products customers love can only happen by observing those customers in their natural habitat. No amount of surveys and interviews can really unearth the actual issues they self-identify. Often, what customers may think are the problems might actually be non-issues in practice. The real fixes, are perhaps, needed elsewhere. For example, NASA wouldn't have spent millions on making a pen that could write in space, while Russian cosmonauts merely used pencils, if it only knew that the problem was not designing a pen but rather being able to write in zero gravity. The purpose of FMH is to avoid such possibilities through trips of discovery where we gain deep customer empathy by getting closer to real people doing real work.
Our inherent ability to deeply listen and respond to our customer needs has been unchanged by the multiple technology shifts and competitive threats we have navigated. Instead we became more resilient by using technology transitions as a means to delight our customers and power their buoyancy during uncertain times. Our deep empathy has enabled us to build an enduring product portfolio that continues to improve and align with our customers' deepest needs.