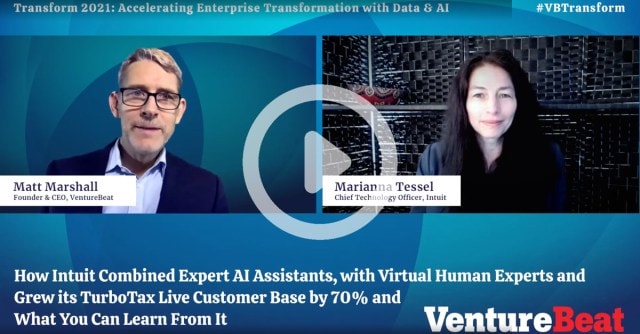 At this month's VentureBeat Transform 2021 conference, Intuit CTO Marianna Tessel joined VentureBeat Founder and CEO Matt Marshall during the "Conversational AI & Intelligent AI Assistants" track on Day 3 for a deep dive into the AI-driven virtual expert platform behind the company's TurboTax Live and QuickBooks Live products and services. In a wide-ranging discussion, Tessel described how Intuit has applied AI technology to tackle one of the most challenging problems its customers face: lack of confidence. 
In the talk, Tessel explores the AI technologies that power these experiences, including knowledge engineering, machine learning, and natural language processing/understanding (NLP/NLU). For customers seeking digital assistance, the platform can understand what's being asked, interact live, interpret documents and rules, and provide clear answers. When live human advice is needed, the platform acts as a matchmaker, connecting customers with the best available tax specialist or accountant to review and discuss documents together. 
The success of Intuit's virtual expert platform is reflected in its popularity. In fiscal year 2020, its TurboTax Live customer base grew by 70 percent, and more targeted and personalized assistance helped shrink average customer care handling times 15 percent. Notably, the company's tax accountant expert network expressed higher satisfaction as well.  
To view Tessel's VentureBeat Transform 2021 Day 3 fireside chat, check out this article or register for on-demand access at VentureBeat Transform 2021. And, if you're interested in learning more about how Intuit is melding the best of machines and humans in its "Live" products, check out this Wired Insider article and have a look at Intuit's mainstage appearance at the AWS Machine Learning Summit 2021 (Chief Data Officer Ashok Srivastava's remarks begin at 49:39 in this video).