The Grace Hopper Celebration is the world's largest gathering of women technologists. Once a year, the best minds in computing come together to learn from leaders in their respective fields, representing various industries, academia, and government. This year's conference was the largest celebration yet – over 20,000 attendees came together for a week of inspiring panels, speakers, and networking opportunities.
Intuit was well-represented this year, with over 120 attendees and a special appearance from the Intuit Giant at our booth (which we call Pari's Lab, originally seen in our short film). We sought to provide a space at the conference that shows how Intuit is solving complex problems and powering prosperity.
Intuit employees led 16 sessions – presentations, panels, workshops, and posters. Here are some of our key learnings from these sessions.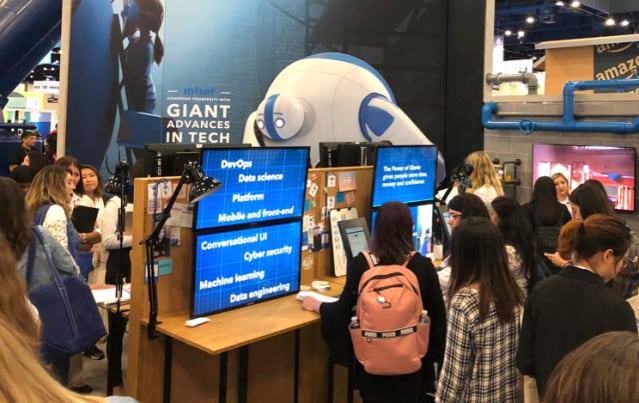 How to Close the Career Gap
We're always on the hunt for top tech talent in new and unconventional places. Hiring managers usually target candidates that are currently working, but they sometimes don't take risks on someone who has been out of the workforce and need more time to ramp up.  This is why those returning to the workforce after taking a break often have trouble getting that first interview or resume noticed due to a career gap. So how can we close the gap? Through innovative, formalized returnship programs.
Intuit's Tracy Stone knows what it's like to return to the workforce. She herself returned after leaving the corporate world for five years to found a small business. She currently leads Intuit's successful returnship program, Intuit Again. In her presentation, "Rethinking Mid-Career Recruiting with Returnships," she shared insight into how to define and implement a successful return to work program, including examples and lessons learned. Here are the two key ways to support those returning to the workforce:
Programmatic Support

– A formal returnship program (i.e. Intuit Again). These programs should include customized onboarding experience, regular lunches and workshops with executives and others who have experienced returning to the workforce, and the importance of regular feedback.

Supportive Environment –

From company culture, to individual work. This can include invested teams, focused hiring managers, dedicated mentors and supportive cohorts of other returnees.
The proof is in the pudding – Intuit has many program participants that are now thriving in their full-time roles.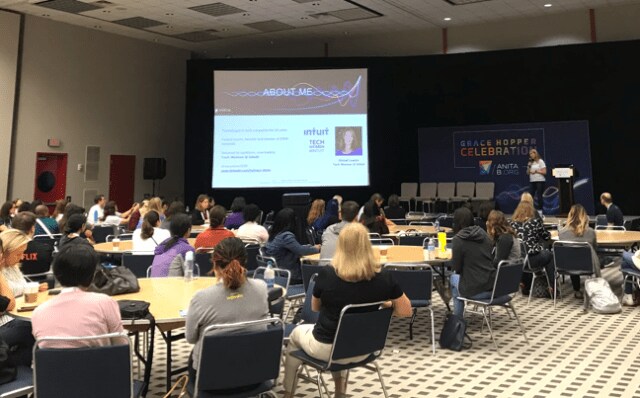 How to Be a Disruptor
Software engineers spend an average of 31 hours per month in meetings. How can you stop spending so much time in meetings, and start actually building? Intuit's Jeanie Webb and Leslie Cahill led a workshop to showcase Intuit's design-thinking process, Design for Delight (D4D), which focuses on rapid experimentation. D4D is guided by three principles.
Deep customer empathy.

In order to "design for delight" you have to not only know your customer, but understand their needs. Empathy allows us to understand customers on a deeper level so we can better solve their problems. Methods for exploring customer empathy include Intuit's unique "follow-me-home."

Go broad to go narrow.

The best ideas come from generating many, so go broad and push beyond the obvious ideas and conventional thinking to uncover unique solutions. Then, go narrow – narrow down your ideas to choose one that will delight the customer.

Rapid experiments with customers.

Experimentation through rapid prototyping is an opportunity to learn from customers. Many people think that you need a large sample size, but that is not always true. Being able to test ideas quickly is key to speeding up the design-thinking process.
D4D provides a way for people to test ideas in minutes instead of days. By the end of the session, 15+ new, innovative and customer centric ideas had been created in just 17 minutes! This shows how the adoption of D4D has made Intuit a design driven company.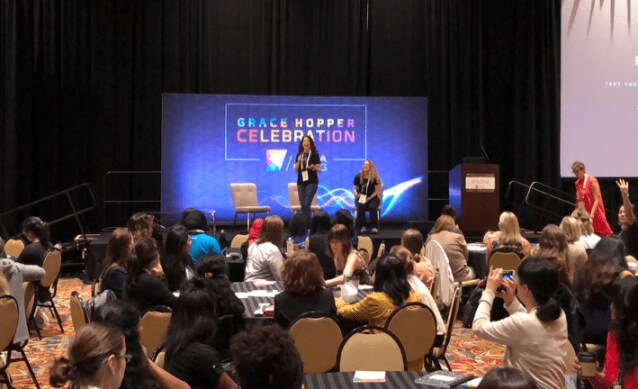 How to Perfect the UI Design Process
Good design begins with understanding your customer and their needs. This has been a focus of Intuit's since the beginning, and shines through our innovative and award-winning designs for products like TurboTax and Mint. In 1993, we created a methodology by which the company gains insights into customers' needs and challenges in their real-life use of the product. Intuit's Merav Alon describes the added value of the "follow-me-home" technique to bridge this gap, and how implementing it can help your design success skyrocket.
First, let's take a look at the old design process for inventing a new product. This process entailed a brainstorming session with key stakeholders (product managers, designers, and developers), ultimately selecting the top 5-10 ideas. These ideas were tested and probed further in solicitations of the "voice of customer" (VOC) which involved engaging the customers through observations in a lab setting. During meetings with select customers, we would ask their opinions on specific issues, to help direct product and design processes. This process has two significant limitations; first, the interviews were not performed in the customer's natural environment, and thus did not necessarily reflect their real life experiences. And second, customers are often reluctant to provide honest feedback.
To address these limitations, Intuit developed the "follow-me-home" as an additional step in the design process. The "follow-me-home" is designed to gain the honest, real-life perceptions, needs, and desires of the customers during a one-hour session with them in their natural environment. The "follow-me-home" is not an interview; it is a time to observe customers, ask open-ended questions, and watch for surprises. Try it next time you're working on a design project!
++++
Were you at GHC this year? What were some key takeaways or insights you discovered? Let us know in the comments.