At Intuit, we believe in powering prosperity around the world. While prosperity means different things to different people, we want everyone to be able to live the life they want, especially our customers. Every customer has their own unique story and Intuit's Day in the Life series helps us celebrate those powering prosperity in their own communities.
Our Day in the Life series continues with Taylor Fields, creator of Nostalgia Coffee Roasters and a QuickBooks and TurboTax customer.
++++
Intuit: Walk us through a typical day for you.
Taylor: There are two types of days regarding our business: one type of day is where we prepare the trailer and supplies and the other type of day is where we make and sell coffee with the truck. We spend about three days prepping and three days selling coffee throughout the week. 
I'll walk you through the days that impact customers more since they're more fun! Our big markets are on Saturday and Sunday. I get up around four in the morning and start my day with a cup of coffee, of course, hang out with my cat, and listen to NPR. Then, I shower, get ready, and head 30 minutes south to Chula Vista, CA. When I get to the trailer in the morning, I load over 50 pounds of ultra-purified ice into the trailer, do one final check to make sure we are fully stocked for the day, turn on the generator, start up some of the equipment, and hitch the trailer up to the truck. 
Around 7:30 a.m., we roll out and get to our busy markets downtown. At 8:00 a.m., we unhitch the trailer, turn the rest of the coffee equipment on, park the truck, and set up the outside aesthetics (bench, plants, signs etc). This makes a huge difference in our customer's experience at the shop. Finally, after all that, we open up the front door of the trailer and swarms of people who need their caffeine fix get in line. It's typically nonstop until 5:00 p.m. when the markets close. We then close the front door, eat any food that the other vendors gave us in a coffee trade, and then we clean for about an hour at the market. After that, we hitch the trailer onto the truck, drive it back to Chula Vista and clean for another hour or two in order to get it ready for the next day. 
Around 8:00 p.m., I start to head home and grab dinner. I get home by 9:00 p.m., hang out with my cat, sometimes have a glass of wine, and then pass out.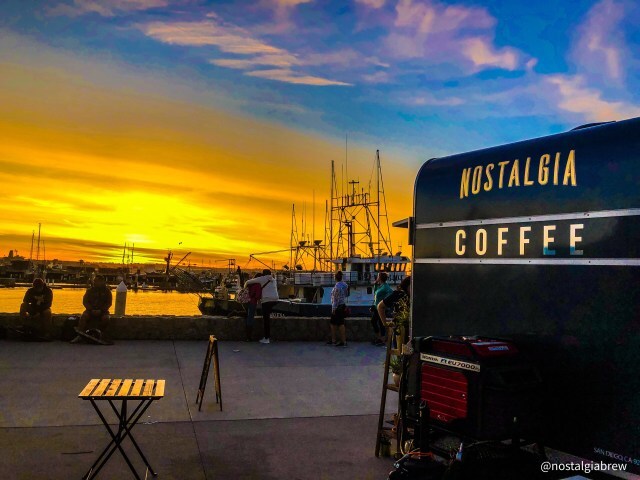 Intuit: Every great day starts with …
Taylor: A cup of coffee, NPR, Cinnamon Toast Crunch, and snuggles with my 7-month-old cat. 
Intuit: The best part of my day is …
Taylor: Definitely the moment we open the front window of the coffee shop – all the hard work we have put into prepping is over, and the shop immediately transforms into a fun environment where we're brewing coffee, talking to people, and listening to music. It's not really 'work' at that point. Our customers are genuinely interested in learning more about coffee so we all have a good time chatting about the intricacies of brewing!
Intuit: Where did you grow up and how did it shape who you are today?
Taylor: I grew up in Albuquerque, NM. I was really close to my family. Watching my mom & dad work extremely hard and always make time for us instilled the sense that you have to work really hard at whatever you do in order to be successful – nothing is really given to you. My dad is a lawyer and he's super passionate about the law so he would work long hours because he loved what he was doing. That work ethic has carried over to me. I can't just sit around. I need to work hard and make this coffee shop happen. 
Also, being in Chicago for college was a big learning experience for me. The culture around coffee changed my whole perspective of the drink, what it means to me, what it means to other people, and how it brings an entire community of people together. I think it's really powerful. 
Intuit: What inspired you to start your own company?
Taylor: I went to Chicago for college and fell in love with coffee. I didn't grow up with coffee at home but in Chicago, it's such a big part of the culture. When it's -30 degrees outside, everyone ends up in the coffee shop, studying, working, or hanging out. I fell in love with coffee at Intelligentsia. They're one of the first big, third wave coffee shops in the U.S., and they blended an artistic vibe with the science of coffee. I absolutely loved watching the passionate baristas carefully craft each drink and make their customer's day. Because of the brilliant coffee and environment that Intelligentsia made, the entire neighborhood was thriving. 
After college, I worked in accounting and auditing. I would bring in a coffee brewer, grinders and & a kettle and I would make coffee for the whole audit team. Sometimes, I would give impromptu coffee lessons to the company's team including the CEO, CFO and our audit team members, which were super fun. I realized that coffee, connecting, and teaching were the highlights of each day. So I started thinking, "why don't I do something with coffee?" I researched how to get started in the coffee industry and it seemed like starting out small with the trailer was a really good and affordable way to do it. Coffee, passion, and people is what inspired me to get started. In 2017, I was working part-time at Intuit and that's when I started working on the coffee shop but we didn't open until August 2018.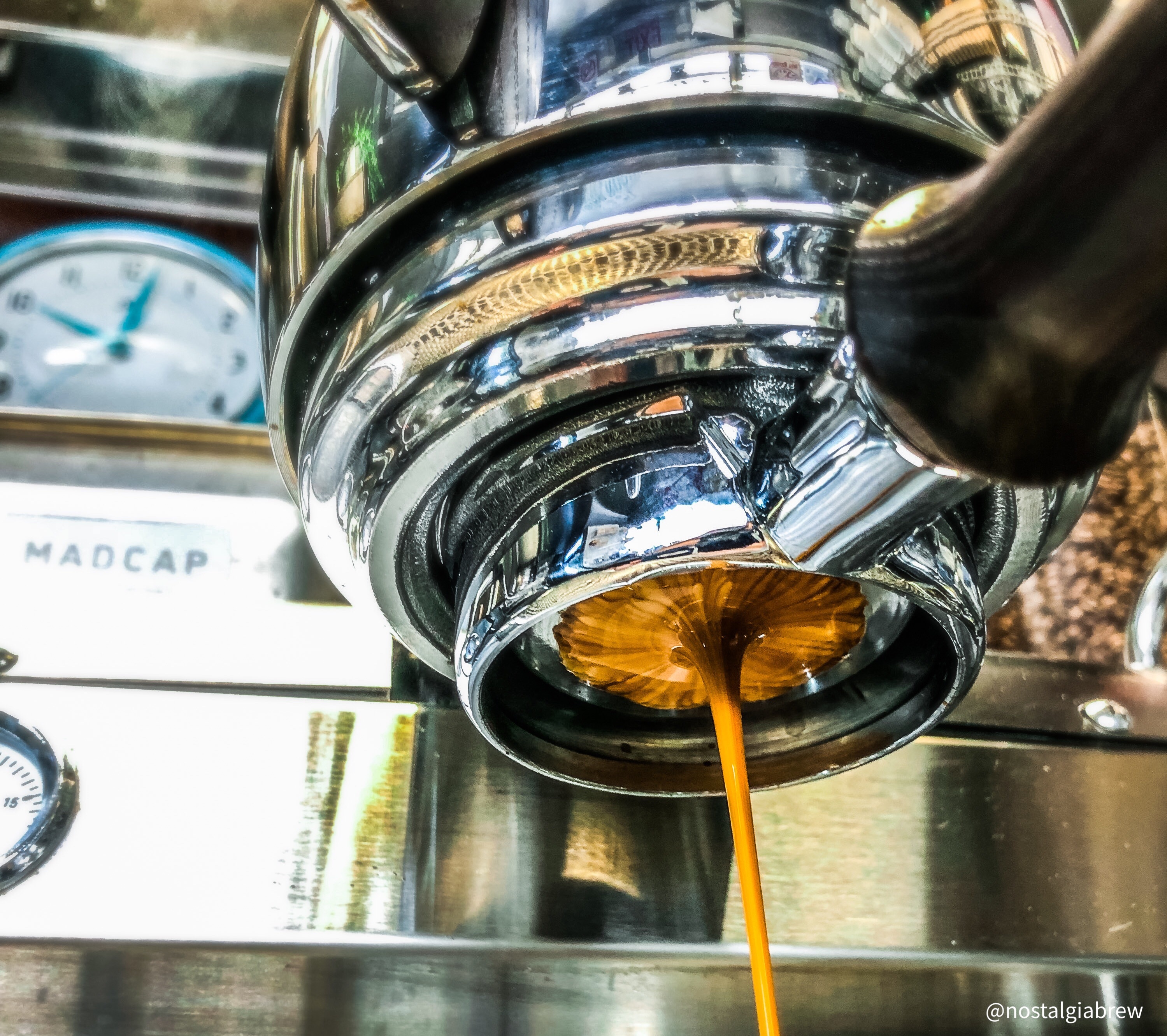 Intuit: What challenges have you faced and how have you overcome them? Any tips for entrepreneurs who may find themselves in similar positions? 
Taylor: Our biggest challenge was figuring out the building code for a trailer of this type, since we are San Diego's first fully mobile third wave specialty coffee shop – meaning we have everything a full café would have. We had to figure this out on our own instead of paying a food truck building company to do it for us. I would spend hours each day reading and researching the building code in order to put our plans together. In total, I spent over six months designing the trailer and obtaining the proper approvals in order to begin the building process. This was certainly a very challenging time but because I'm so passionate about coffee, it was never an option to give up. My advice to anyone who wants to start their own business is to first, be extremely passionate because you won't give up and second, do your homework so that you know more than the people who are giving you permits, licenses, etc. 
Intuit: What changes has your company seen since launching last August? 
Taylor: The biggest change came within the first week of opening. The entire time we were planning and building the trailer, I imagined us working six days a week, going to smaller events and apartment buildings, and selling coffee for just a couple of hours each day. But on the first Wednesday we were open, there were a series of lucky events that changed the trajectory of our business. First, for that coming Sunday's Lane Field Park Market in downtown San Diego,  the usual coffee company that would work that particular market wasn't able to make it. So, the market's owner called around for a replacement and got in touch with Bird Rock Coffee Roasters who eventually recommended us. We had only been open for three days so we weren't really proven but because of their recommendation, we were able to secure the market spot that Sunday. It was a huge success. We sold way more coffee in one day than what I thought was possible and it changed how we would run the business. We began focusing on larger events and working longer hours as opposed to working at smaller events and working shorter hours. We eventually landed a permanent spot at the Sunday Market and a similar Saturday market.
Hiring employees has also been a big change in our business. Initially, I did not think we would need to formally hire any employees for at least a year, but due to demand and the success of our business, we had to hire two part-time employees. It has been a challenge to run the shop and also train our employees. Luckily, they are amazing and really passionate about coffee. I try to make sure we are always on the  same page – happy, having fun, making meaningful connections with our customers, and brewing our coffee to perfection. I definitely try to be more of a mentor and a friend to my employees instead of being a boss. If we are all having fun, then our customers will too and their coffee will be perfect!
Intuit: What does success mean for Nostalgia Coffee Roasters?
Taylor: Success means a couple of things for us. First and foremost, brewing our coffee as close to perfection as possible would be a success. Second, we will always be successful if we can have a genuine connection with each of our customers by asking them how their day was, talking to them, and listening to what's on their mind. If we can brew each cup properly and make connections with our customers, then I don't see how we can't be successful. 
Intuit: What do you envision for the future? 
Taylor: My mentors have always told me to keep the future in mind but to not get burdened by it. I'm really into what coffee has the power to do for a community. A coffee shop has the power to bring people of all backgrounds together and create a micro-economy where people are connecting, working, meeting, studying, and enjoying their day. I want to eventually expand but only in a way that helps create a healthy community that happens to be centered around coffee. We have to be an integral part of the neighborhood but only in a way that helps our community members thrive. 
Intuit: Tell us a little bit about how you use Intuit products for your business and what you find most useful.
Taylor: I use QuickBooks and TurboTax. Luckily, because I have an accounting background, I know how important it is to make sure you record all your expenses. Because money was so tight when we were starting out in 2017, I knew it would be helpful to get those tax deductions. QuickBooks online was awesome because I have the phone app. I was able to take pictures of all my receipts, do my expenses, and capitalize my assets properly. I was also able to organize the whole business in a really simple and effective way. You actually don't really need to know much about accounting to use it.
When I was using TurboTax, it was super beneficial and really easy to use. We made sure, in part because of QuickBooks, we got all of our deductions, depreciation expenses, and costs taken care of. So, when we filed our taxes, we didn't owe a bunch of money. We actually got a lot of money back, which was a substantial help to the business because we didn't have extra money sitting around to pay additional taxes. 
Intuit: How does the work you do every day help power prosperity?
Taylor: When I think about prosperity, it has to do with people thriving. I think if you thrive, you're prosperous. My simplest answer would be that when people get their coffee brewed properly in the morning and from a barista that makes a genuine connection with them, then they now have an excellent base to thrive for the day. If we can make our customer's day a bit better, then we are helping them thrive and the people they meet and work with throughout the day thrive. 
The other answer that's not as straightforward is really much more big-picture oriented and touches people's lives all over the globe. By making sure that our coffee is ethically sourced, processed properly, roasted, and brewed to perfection, we are ensuring that everyone in the coffee chain from seed-to-cup is treated fairly, respected, and represented correctly. This allows our business and everyone in the seed-to-cup chain to continue thriving and living life to the fullest. It's relatively simple, if we brew the coffee properly and represent the work of the farmers & roasters properly, then people will keep coming back for the coffee and this ensures everyone in the chain will be successful. This impacts everyone from San Diego, to South America to Africa and all across the globe. The stories and the amount of people who have devoted their lives to making sure that the cup of coffee that ends up on your table perfect is really remarkable and I am so thrilled to be part of this chain.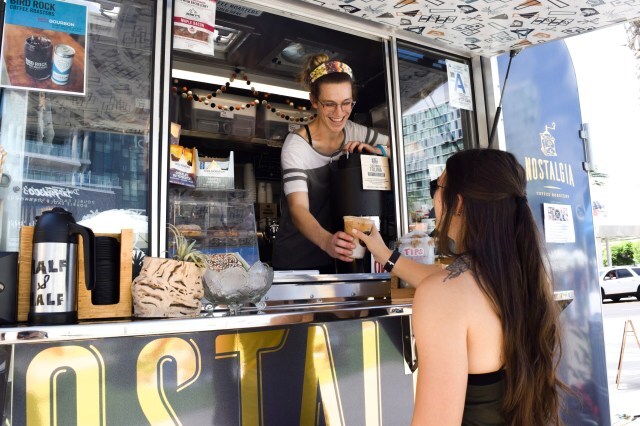 Intuit: How do you come up with products that keep people coming back? What helps you to be innovative?
Taylor: What truly differentiates us is the quality of the product. It starts with the water. Coffee is 98% water. We get ultra-purified reverse osmosis (RO) water, as opposed to tap or bottled water, and mix minerals back into the water via the Specialty Coffee Associations recommendation in order to create the perfect base for our coffee – it really affects the flavor of our drinks. Then, there's the coffee. We work with Bird Rock Coffee Roasters in San Diego. The owners, Jeff & Maritza, have been our mentors. They take coffee very seriously, sourcing it ethically and working closely with the farmers and paying them well. The coffee is processed and roasted perfectly. Next is the brewing. We control all aspects of the brewing process including water temperature, pressure, time and weight. We spend equal parts of attention to the science and the art of the brewing process. Lastly, the products that go into the coffee, like the various milks, are of the highest quality. Our whole milk, for example, is lightly homogenized organic Northern California milk from Straus Family Creamery. The coastal cows graze on sweet grass which contributes to the creamy and naturally sweet flavor of our lattes. Product, quality, connections and intention are all really important to us – you can absolutely taste it all. Occasionally, we'll also do specialty drinks. For example, one was an Organic Brown Sugar Latte and it was a massive hit (especially at Intuit), so we officially added it to our menu. We are always thinking of new and creative drinks, but only ones that compliment the coffee and allow the hard work of the farmer, sourcer, and roaster of the coffee to shine.