Social Innovation team profile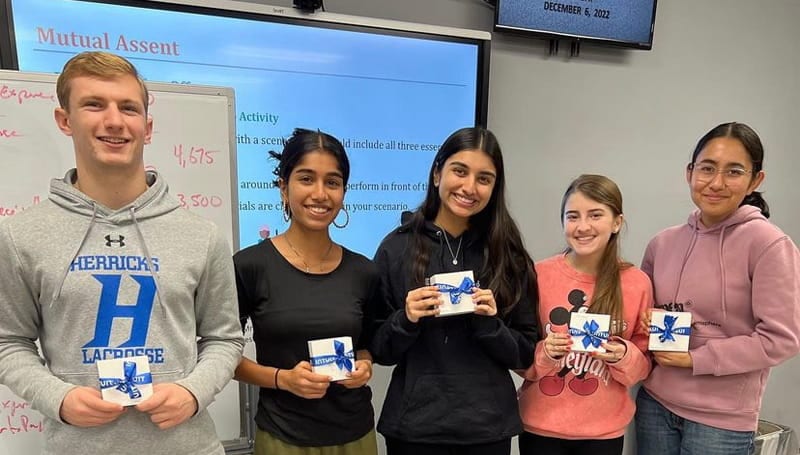 Meet the team: Savor Straws
"The creative process for coming up with our idea helped us cultivate analytical thinking, which is something we can use in any aspect of life," Nikki said. "Working with my classmates outside of our typical classwork to design something together was a great experience."
Business school is expensive. According to Bankrate, students will accumulate anywhere from $20,000 to more than $80,000 in debt over the course of a two year program, and that's not including the cost of books or the time invested in completing the classes. Most MBA students must work, as well – and this makes the dream of obtaining a business degree unreachable for many people, particularly those in minority and underrepresented groups who may not have the resources or support they need.
Team Straw Savers set out to devise a solution for this problem when they participated in Intuit's Fall 2022 Social Innovation Challenge. Their goal is to make a quality business education affordable for everyone.
"On Their Own"
The 5-person team from Herrick's High School in New Island, NY included seniors Meaghan Haller and Matthew Capelle, and juniors Aralyn Geevarghese, Prisha Agarwal and Nikki Shah. With interests ranging from nursing to chemistry, marketing, medicine and music, the team relished the opportunity to build valuable business skills while coming up with innovative ideas about how to make an impact on inspiring entrepreneurs in underrepresented groups.
Meaghan, who is among a handful of students certified in Intuit's design thinking methodology, Design for Delight, had participated in similar challenges before, namely the Global Innovation Challenge, which gave her the opportunity to work with students from all over the world. Other team members had taken Herrick's Social Enterprise class, and were eager to apply what they'd learned to a new challenge while building their knowledge about what it takes to develop a business idea.
The team's business, On Your Own, would offer affordable classes in a variety of business-related topics – from Accounting and Marketing to IT and Business Administration – for just $100 per two month session. Proven business leaders in various fields would volunteer to teach classes either for free or for a small fee at local community centers and high schools at night.
Working with their Intuit mentor and leveraging Aralyn's design expertise, the team developed a stylish prototype for their website. According to Meaghan, their inspiration came from recent meetings with local colleges and professors, as well as personal experience. "My sister is in graduate school for business, and I know how expensive and time-consuming it can be," Meaghan said. "We wanted to provide a better alternative where people could receive a quality education affordably in less time. Our classes would be designed to cover all the essentials at a faster pace, and at times that are convenient for working adults."
"We looked to our own busy schedules as inspiration, and created a structure around shorter, late-night "power" courses, so students could absorb a large amount of information in a short period of time," Prisha said. 
Aralyn believes On Your Own can make a significant impact among members of underrepresented groups, giving them a springboard for starting a business, without the high cost and debt associated with business school. Nikki added that it provides an opportunity to test the waters affordably, before committing to a specific field.
"Underrepresented minorities generally don't receive the same level of income that represented populations do," added Matthew. "By making our courses accessible and inexpensive, we can provide the high-quality education they wouldn't be able to receive otherwise."
Applying new skills 
Straw Savers were finalists in the competition. The team members all enjoyed the ongoing collaboration throughout the project and the ability to apply the skills and processes they learned during Intuit's Design for Delight course to solving a real-world challenge. They gained invaluable teamwork and communication skills, and they also really enjoyed the ideation and brainstorming activities.
"The creative process for coming up with our idea helped us cultivate analytical thinking, which is something we can use in any aspect of life," Nikki said. Most importantly, they had fun. "Working with my classmates outside of our typical classwork to design something together was a great experience."
<!-— twitter card tags additive with the og: tags -->