Diversity and Inclusion at Intuit
At Intuit, diversity and inclusion isn't just something we do. It's part of who we are.
Throughout our history, we have celebrated diversity and valued inclusion. We believe that innovation thrives in a workforce that includes employees with a wide range of life experiences and a supportive culture that lets great ideas rise to the top.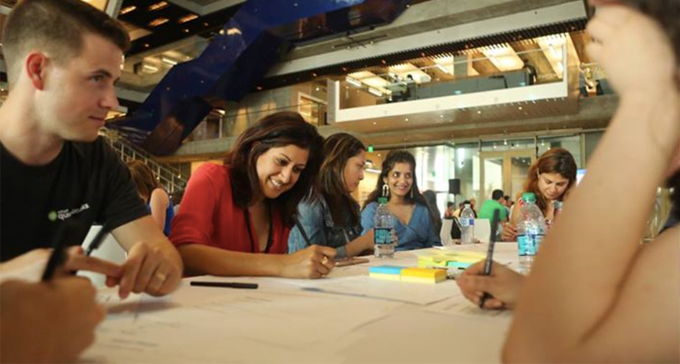 A diverse workforce brings a broader range of ideas to the table. When employees share their unique perspectives, creativity thrives. Good ideas become great ideas. A diverse workforce also helps us to better understand our customers – and each other. With a workforce that mirrors the demographics of those we serve, we create awesome products and services that solve people's unique problems and exceed their expectations.
This commitment creates a talented, engaged and diverse workforce at all levels, from the front line to the board of directors. Its roots date back to 1993, when Intuit employees wrote our Operating Values, emphasizing "It's the People." A short time later, we were among the first to offer health care benefits to domestic partners of employees. Today, you'll see diversity and inclusion reflected in our 11 employee networks, where colleagues from around the world come together to share similar interests, backgrounds or heritage and a desire to learn from other points of view.
You'll see it on our CEO's staff, where women represent almost 40 percent of our most senior leaders. You'll see it among our leadership, where women hold one-third of our senior management positions and where a dedicated executive serves as our chief diversity officer.
You'll see it in our technology workforce, where women hold almost 30 percent of our engineering positions. And you'll see it on our board of directors, with women representing 40 percent of our members.
While we're proud of our legacy, we continue working to get better in the future. To continue our progress, we have set a goal to increase our African-American, Latino and other underrepresented ethnic minorities to make up 15 percent of our workforce by 2020, up from 11 percent today.
The Importance of a Diverse Workforce
Embracing diversity and inclusion goes far beyond reporting employee demographics. It's a strategic driver of business value that enables Intuit to:
Grow the business, lifting company performance, generating customer insights and expanding markets while improving execution.

Companies that address both inherent and acquired diversity are 45 percent more likely to improve their market share and 70 percent more likely to capture a new market.
- Center of Talent Innovation
Attract and develop top talent, creating a culture that values innovation, inclusion and continuous learning.

In a survey of 321 large global enterprises with at least $500 million in annual revenue, 85 percent agreed or strongly agreed that diversity is crucial to fostering innovation in the workplace.
- Forbes Magazine
Enhance our brand, solidifying our reputation as a socially responsible business and top talent destination.

Fortune 500 companies with more women executives and directors have higher levels of philanthropic investment and environmental commitment.
- Catalyst and Harvard Business School
To put it succinctly: Diversity makes sense. For our employees. For our customers. For our partners. For our shareholders.
Diversity at Intuit
We measure diversity in several different ways, including by gender and ethnicity.
As of July 2017, we reported that:
Women represented 39 percent of our global workforce, holding 29 percent of our technology positions and 49 percent of our non-technical positions. They also held 32 percent of our leadership roles.

In the United States, the numbers are stronger. Women represent 41 percent of our domestic workforce, holding 31 percent of the technical jobs and 51 percent of the non-technical roles. They held 33 percent of our leadership roles.

In the U.S., we reported the following workforce breakdown by ethnicity:
White: 48 percent

Asians: 28 percent, up 1 percent.

Hispanic or Latinos: 8 percent

African-Americans or black: 3 percent

Two or more races: 2 percent

Indigenous peoples, including Native Hawaiians, Pacific Islanders, American Indians, Alaska Natives or Canadian First Nations: 1 percent.

Undisclosed ethnicities: 10 percent.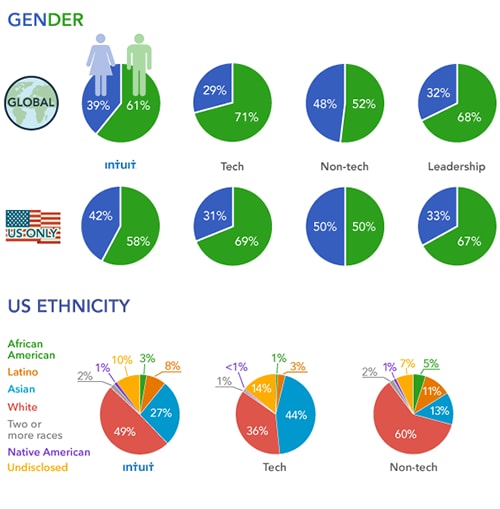 WWe are committed to equal pay. In fiscal 2017, we commissioned an analysis by an independent, outside company to look for any statistical differences in Intuit base pay by gender and race in the U.S. and by gender in India, and we determined that:
In the U.S., women earn on average $1.00 for every $1.00 that men earn

In the U.S., minorities earn on average 99.7 cents for every $1.00 whites earn

In India, women earn on average 95.5 cents for every $1.00 men earn
As a result of this study, we have made salary adjustments for certain employees and also conducted additional analysis of the root cause of the differences in India. We are committed to eliminating unexplainable differences in pay, to making pay equity analyses part of our yearly talent and pay process, and to communicating with transparency.
Equal Employment Opportunity 2016 Employer Information Report
We annually file our workforce demographics in the Employer Information Report EEO-1. Our numbers may vary slightly from the government's report due to changes that have been made in the industry and in technology since the report was created in 1966. Therefore, we believe the information we provide on this site more accurately represents our true progress.
Bringing Diversity and Inclusion to Life
At Intuit, we encourage employees to bring their whole selves to work and to champion diversity. Here are some of the ways we continue to ensure that Intuit is a place where the world's top talent is inspired to do the best work of their lives, innovate and make a difference.
Connecting Through Employee Networks
Our 11 employee networks, open to everyone at Intuit, embrace cultural, ethnic and faith-based communities. Together, they facilitate career development, attract new talent, sponsor community involvement and act as a resource to the business.
Asian Pacific Islander Network
Intuit Christian Action Network
Intuit Indian Network
Intuit Military Network
Intuit Muslim Awareness Network
Intuit Women's Network
Latinos Connect at Intuit
Mosaic, the African Ancestry Network
Next Gen Network
Pride Network
Special Needs and Abilities Network
We also partner with a wide array of community, industry and academic organizations to further our efforts, including the Anita Borg Institute, NCWIT, the Clayman Institute for Gender Research at Stanford University, Out and Equal, and others.
Twenty-nine percent of our global tech workforce is female. While we're ahead of the industry, we aspire for greater gender diversity. We have an initiative called Tech Women @ Intuit, focused on attracting, recruiting, retaining and advancing women in technical roles.

Our programs include sponsorship by leaders, peer mentoring through Intuit Circles based on Lean In Circles, development workshops like negotiation, executive presence and speaking skills, and site events to build our tech women community.
Expanding diversity within our ranks starts with making a concerted effort to reach out to attract the best candidates from all walks of life and from all communities. We support and sponsor a variety of organizations and programs to help us find and attract top talent that reflect the communities where we live and work.
Code 2040 – As a Platinum Sponsor partner, we support Code 2040's efforts to create access, awareness, and opportunities for top black and Latino engineering talent in the San Francisco Bay Area to ensure their leadership in the innovation economy.

Results: Students who become Code 2040 fellows have an opportunity to intern with one of Code 2040's partner companies and have access to full-time roles upon graduation.
Intuit Again – The program in our India Development Center provides women technologists, who have taken a break in their career, with an opportunity to engage with work again.

Results: We've hosted three successful programs for 20 women, with 75 percent of the participants graduating to accept full-time jobs at Intuit or one of our partner organizations.

Vets in Tech – Intuit is a partner sponsor supporting Vets in Tech efforts to reintegrate veterans into the technology sector. We have hosted events and offered general education and technical training in Security Development Operations to support their transition.

Management Leadership for Tomorrow – This organization equips high-potential minorities in the Washington, D.C., area with personalized coaching and programs to help with career development and community impact.

Results: Intuit hosted MLT Tech Boot Camp providing 150 students the opportunity to learn and put into practice rapid prototyping. We also partnered during their annual kick-off event to instruct students in design thinking.
Yes We Code – This experimental program in Oakland, Calif., will offer people from underrepresented minority communities the opportunity to take basic software coding courses and then participate in an intensive tech boot camp. Apprenticeships with Yes We Code's partner companies are available for those completing boot camp.
Results: Intuit plans to host up to five apprentices for the next three years.
Supporting Emerging Talent and Leadership

We take pride in developing leaders, and recognize that leadership potential exists in everyone. At the same time, we support efforts to broaden access to technology careers, including sponsoring a number of programs and providing opportunities to encourage women and ethnic minorities to pursue careers in science, technology, engineering and math.
Girls Who Code – Intuit partners with this national nonprofit organization that seeks to achieve gender parity in the workplace by 2020. Intuit was one of just three Bay Area locations to host a Girls Who Code Immersion program in the summer of 2016, giving high school sophomores and juniors hands-on experience in computing concepts, programming fundamentals, mobile phone development, robotics, and Web development and design. Intuit employees also serve as mentors, speakers and field trip chaperones.
Grace Hopper Celebration of Women in Computing – Through our sponsorship, we work to encourage and inspire women to pursue careers in technology. From keynote speeches to a booth staffed by our best technical women, we make an all-out effort to find potential employees in the talented crowd.
We conduct dozens of interviews at the event and when we find a match, we may make offers on the spot. We sent more than 100 women in technology to this year's conference, with a goal of recruiting mid-career technologists and attracting new college graduates and interns. In addition, 19 Intuit employees delivered presentations on 19 topics, spanning a big range including A/B testing, human computer interaction, making the leap to technical manager, and decoding data careers.
Innovation@Imago Dei – Intuit employees are teaching the company's innovative Design for Delight methodologies to students at this Tucson, Ariz., middle school with a population of 96 percent underrepresented minorities. The students created a business model to make a garden and sell food at farmers' markets on weekends. Funds are used to purchase urban garden kits for families in their community.
Watermark – Intuit has a longstanding relationship with Watermark, a community of executive women coming together to connect, develop and advocate for the advancement of women in the workforce. We hosted this organization's fourth annual Women's Leadership Conference in 2017 and will do so again in 2018. Merline Saintil, head of operations for our chief technology officer, serves on the nonprofit organization's board of directors.
Expanding Product Accessibility
Intuit strives to build compelling user experiences for all of our customers, regardless of their physical, sensory, communication, and cognitive abilities. This drive includes building an inclusive work space, customer outreach, and leading industry initiatives to educate and expand accessibility opportunities. We host an Accessibility Boot Camp, training new engineers to build accessible products, use assistive technology, and understand our customers' needs.
Our ongoing efforts have earned Intuit global recognition as a leader in diversity and inclusion, including:
Anita Borg Institute:
One of top 25 companies for women technologists, 2016

Recognized in the Leadership Index for women technologists, 2017
The Economist:
Ranked Intuit's Pride Network among its Top 10 LGBT Employee Networks, and Intuit's Women's Network and Tech Women at Intuit among its Top 10 Women's Employee Networks in 2016.
Fortune Magazine / Great Place to Work Institute:
Ranked Intuit as No. 13 among its 50 Best Workplaces for Diversity in December 2016

Best Workplaces in Canada for Women, 2011-2016

India's Best Companies to Work For – Supporting Women to Remain at Work, 2015-2016
Human Rights Campaign:
Awarded Intuit a 100 percent rating on its Corporate Equality Index, 2005-2017.

Best place to work for LGBT equality, 2017
Watermark:
Impact Award, for supporting and developing senior female leaders, 2016

Working Mother/AVTAR:
100 Best Companies for Women in India, 2016