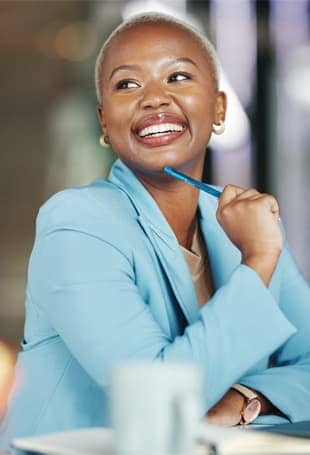 Intuit for Education help and support
If you have questions about the Intuit for Education curriculum or need support for any of the platform's tools or resources, we're here to help. From our direct support team and library of FAQs to our online Intuit Educator Community, you can find the information you need here.
Intuit for Education FAQs
Intuit for Education helps today's generation of students become financially literate. Intuit for Education is designed for high schoolers and offers a flexible, interactive curriculum with "real-world tools," to get students excited about personal finance.
Just 1 in 4 students in the United States have access to a quality financial literacy education. Financial literacy helps individuals build the confidence to manage financial situations, by learning how to avoid making mistakes and handling unforeseen expenses. Source
Intuit for Education and its curriculum vary in a few key ways. First, we lead with 30-second to 2-minute videos to suit your students' learning needs. If you prefer to teach with guided in-classroom instruction, that's also available. Second, we provide real-world tools in the classroom for project-based simulations. We know that students learn better by doing. With our curriculum, they use fictional characters, and apply financial literacy skills and concepts to everyday life situations.
No. Intuit collects limited student data for the purpose of enabling use of the Intuit for Education platform. Intuit will not market to students or use their data for any purpose unrelated to the Intuit for Education platform.
Currently, the Intuit for Education platform is only available in the U.S. 
Intuit for Education provides a flexible, comprehensive curriculum with pre-designed or customizable lessons for personal and entrepreneurial finance. Options include hour-long lessons that can be added to existing lessons, or full semester courses (90+ hours) that meet national standards for FinLit requirements. Lessons are designed to be flexible for guided or independent learning.
To access Intuit for Education for you and your school, visit this link. To ensure alignment with Intuit's data stewardship principles and compliance with education privacy laws like FERPA, before Intuit collects student data of any kind through the Intuit for Education platform, Intuit requires a school principal, administrator or other authorized representative to review and sign the Intuit for Education Services Agreement, accept the Intuit for Education platform Terms of Service, and acknowledge the Intuit for Education Privacy Statement
The process to get started and set up your students takes less than 5 minutes.
Today, you cannot download the videos and subtitles. You must view the videos (with their subtitles) and Intuit simulations in the Intuit for Education platform.
We do not currently offer mentorship today; however, please reach out to education@intuit.com with your interest, and we will keep you posted regarding future mentorship opportunities. 
Log into your Intuit for Education account to learn about your support options, or send us an email at education@intuit.com.
We welcome any feedback you have about Intuit for Education, and have made it easy for you to provide your input. Look for pop-up modules throughout the platform, where you can offer your feedback and ideas, ask questions and make suggestions for how we can improve the platform. You can also email us directly at education@intuit.com.
Personal finance education empowers individuals with the knowledge and skills needed to make informed financial decisions, develop critical financial behaviors, and manage their money.
The time it takes to complete the course varies by student, but we provide approximately 30 hours of video content, 15+ hours of real-world tool and project- based learning simulations, and 30+ hours of in-classroom guided materials. Combined, this comes to roughly 75 hours of personal finance curriculum, curated and easily customizable for any classroom. All of the materials meet the Council for Economic Education and Jump$tart Coalition for Financial Literacy K-12 national personal finance standards.
None! All beginners are welcome. We highly recommend starting with Money Mindsets, which will acquaint students with personal finance and why it's important. 
All of the curriculum and content is available for students ages 13+. Whether you are in high school or post-secondary education, this curriculum is for you. 
Every school may have different requirements. Be sure to check with your local Department of Education site. Currently, Intuit is working to build a curated list for requirements by state. 
The Intuit for Education platform and its videos, activities, and lessons are available on your mobile device or tablet. They are mobile-responsive; however, we are working on optimizing the experience and highly recommend using a desktop computer to access the content.
All you need is access to Wi-Fi to use the Intuit for Education platform.
Even after your class ends, you can still access the Intuit for Education platform and continue with your learning journey. 
No. Anyone can access the Intuit for Education platform and begin learning personal finance. You do not need to be enrolled in a personal finance class. 
As a student, you will need to work with your educator to determine the appropriate next steps, for example, to either finish your course or continue at your own pace. 
Yes, all classes can be retaken. If you are in the middle of the semester, you may need to work with your teacher on a plan of action. If you are working on Intuit for Education on your own, you can simply restart the topic.
You can access the curriculum as long as you have an active account. If you belong to a specific classroom, work with your teacher to unlock your curriculum. If you prefer to go at your own pace, you can sign up directly here.  
From the Dashboard, select New Class, or click Classes from the left-hand navigation. Remove the existing class by selecting Classes from the left-hand navigation. Choose the class you wish to remove, select Manage from the upper right-hand section, then Delete and type DELETE to confirm.
No. Intuit for Education is designed for classroom usage; however, you can still access it for a variety of purposes if you are not an educator. Examples include leading a webinar at a local library or simply wanting to leverage the materials to teach your own kids at home - you can access the platform and begin teaching immediately.
All guided materials can be downloaded and used in the classroom and customized however you see fit. You can customize Intuit for Education lessons to meet the needs of your own school or business. Select individual units and lessons ad hoc, or tap into a full semester (90 hour+) course. 
There is no limit today on the number of classes you can create. 
There is currently no limit to the number of students that can be enrolled in a class.
You bet! Once your school has been approved to use Intuit for Education, technically anyone can sign up and enroll students for Intuit for Education, whether they're participating in a club, after school program, or other student-oriented group, 
When you sign into the Intuit for Education platform, you can view all of the curriculum, resource guides, and pre/post test assessments, and preview what it's like to be a student – all without creating or setting up your classroom.
Unfortunately, this functionality is not yet available. Check back in the near future for product updates!
There are no review materials for assessments at this time. We expect that students will learn the relevant information for passing assessments during the instructional phase.
All of the content is available for review prior to assigning to students. Reviewing the materials helps to ensure you have what you need and determine what's relevant and applicable to your students. Assessments will also help gauge the level of difficulty and whether students are successfully retaining the information.
Today we offer Personal Finance or Entrepreneurial Finance courses. If you need help deciding which course and what content to teach for your students, you can preview all of the materials, or join the educator community to talk with like-minded educators to see how they began their personal finance journey with Intuit.
Each module provides an estimated time of completion, and we allow you to dictate what chapters you want to assign to your students. If your students cannot finish within the time available, they can take their work home to complete. 
You will be able to see that the student has started, how many lessons are completed, and average quiz scores.
Answer keys will be provided for the guided content only. You can download all guided content and material from the curriculum view, chapter level. 
This video walks you through the process of removing students from your class in the platform. 
Currently, there is no way to copy or duplicate a class, however we're working on this feature and plan to release it soon! For now, you must create a new class and re-invite the students. 
There is currently no way to transfer the class to another teacher.
Please approve the following domains:
education.intuit.com
cdn.intuit4education.a.intuit.com
Get started with these easy-to-follow videos
Please add children elements
Looking for QuickBooks Online and ProConnect education resources?
© 2023 Intuit Inc. All rights reserved.
Intuit, QuickBooks, QB, TurboTax, Mint, Credit Karma, and Mailchimp are registered trademarks of Intuit Inc. Terms and conditions, features, support, pricing, and service options subject to change without notice.
Photographs © 2018 Jeremy Bittermann Photography. By accessing and using this page you agree to the terms and conditions.
<!-— twitter card tags additive with the og: tags -->