Teach personal finance basics with Mint
Help students take control of their finances and their futures. Get students up to speed with budgeting, credit scores, savings, and more using Mint.
0
Building financial literacy skills for life
Real-world tools for future success
Developing habits to make it stick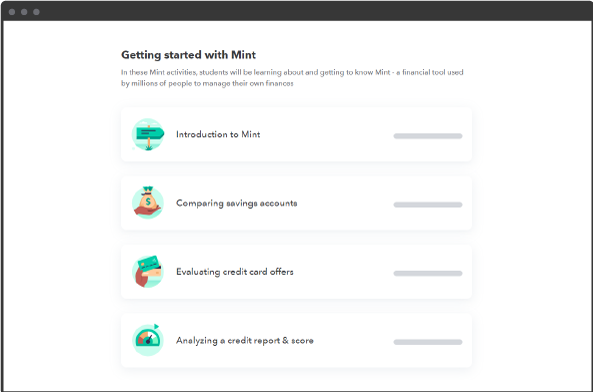 Getting started with Mint
There are five Mint for Education activities that explore Mint while reinforcing personal financial literacy topics. All the activities follow Isaiah — our fictional Mint persona. As students spend more time in Mint, they will get to know more about Isaiah and be able to evaluate and make suggestions for how he can improve his financial health. 
Mint teacher toolkit
Download the teaching toolkit of materials to access the following guides and easily bring personal finance into the classroom.

Curriculum overview
Part one sets you up to teach Mint in the classroom, with a high level overview of each activity, directions for teachers and students, and alignment to National Personal Finance Standards.

Curriculum orientation
Part two provides access to the main Mint activities to use with your students, which include four fictional characters to practice filing taxes with different scenarios.
Thank you
A QuickBooks expert will be in touch with you shortly.
Curriculum to bring Mint into the classroom
Whether you want a professional development webinar, a standalone module or activity, or a year-long course, you'll find it in the curriculum below—all for free.
Council for Economic Education (CEE)
Choose from over 150 free lessons on personal finance as well as professional development webinars and other resources.
Create a free account and get started
Next Gen Personal Finance
NGPF offers 1000's of different lessons plans and activities ranging from one day to an entire year. Be sure to check out their other offerings ranging from advocacy, teacher trainings, and much more!
Learn about Next Gen Personal Finance
Resources teachers can use today