Social Innovation team profile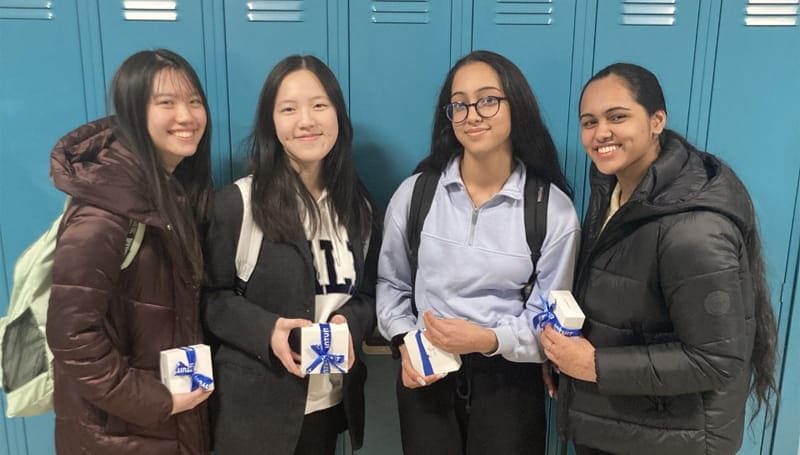 "There are so many bold and courageous intellectuals who could reach soaring heights, but they're held back by discrimination. We want to make sure they can get to where they should be, because they deserve it."
Recruitment is a major challenge for small businesses – particularly those owned by members of underrepresented groups. As businesses recover from pandemic-related hardships, 60% say hiring and retaining staff is among their top challenges. At Jericho High School, four students – Sophia Xia, Amneet Kaur, Gurnoor Kaur and Eliana Wang – set out to solve this problem by participating in Intuit's Fall Social Innovation Challenge. 
With interests spanning gymnastics, badminton, piano, writing and drawing, the students, who dubbed themselves EnviSAGE, collaborated to build a website for connecting successful and aspiring entrepreneurs. 
Solving a critical problem for minority-owned businesses
EnviSAGE's original idea was to create a recruitment website for minority-owned construction businesses. "One of the biggest problems we heard from the business owners revolved around attracting and retaining employees," Gurnoor said. "Smaller businesses, in particular, have trouble finding employees to fill in when a staff member is out sick or on vacation, and may lack the funds to hire an employee for the short term."
After working with their mentor from Intuit, the team decided to expand the idea and create a site that would not only help small businesses find interns to fill temporary positions, but help successful and aspiring entrepreneurs forge meaningful connections, with a focus on underrepresented groups. The site includes several sophisticated features such as filtering, a Map feature, and a Community Chat forum. 
"Our goal is to even out the playing field," said Sophia, who added that her mom, who is of Asian descent, had been able to further her career in business through making connections. "Minorities often don't have those opportunities, and even if you're qualified, you may not get hired because you lack those critical connections."
Matching experienced and aspiring business owners
On the site, experienced entrepreneurs can create a profile that outlines their business and experience, and express interest in hiring people for internships or apprenticeships that are either paid or provide college credits. Aspiring entrepreneurs can create profiles listing their qualifications, as well. 
The site's filtering feature enables users to filter profiles based on demographics – for example women-owned businesses or candidates with African ancestry – providing both parties the opportunity to make an impact within underrepresented communities. When a business performs a search, the most qualified applicants appear at the top of the results, making it faster and easier to find the best candidates. 
Drawing inspiration from sites like Airbnb and Zillow, the team designed the site to be globally accessible. For example, if a college student is looking for a summer internship in another state or country, they can search that area and find businesses nearby who are hiring. What's more, users can choose their preferred language, making communication easier for people from different backgrounds.
The Community Chat forum enables aspiring entrepreneurs to seek and receive advice from successful business owners. "If you're a college student who wants to start a business, you can post a question, and only qualified, experienced entrepreneurs will be able to respond," said Gurnoor. A symbol next to the business owner's name verifies that they're qualified to answer the question. "Our team pre-qualifies business owners before they can participate in the Chat, so users know they're receiving advice from experts in the field," she said.
Thinking out of the box
EnviSAGE made the competition's Finalist Round, but the real value was what they learned – communication, collaboration, teamwork and customer empathy. Eliana said that she enjoyed the creative aspect of designing the prototype, as well. 
During Intuit's Design for Delight course, the team learned about steps in the product design process. "The course gave us a structure for creating a solution and opened our eyes to a new way to approach solving a problem," Sophia said. "For example, empathizing with the customer is so important, because it enables you to identify their needs and wants, and it's the first step in creating a solution that the customer is looking for."
"The Design for Delight process helped us really think out of the box, because it teaches that every idea is valid," Eliana said.
What's next for EnviSAGE?
For these young business leaders, a bright future is certain. While Amneet foresees a career as a lawyer, Gurnoor and Sophia hope to be business owners. Eliana wants to open her own pharmacy, and Sophia is interested in starting a Skincare business. All four young leaders continue to be heavily involved in Future Business Leaders of America (FBLA) and other organizations that are helping them build their business skills.
The team is considering developing their project further, after the challenge ends. "We believe that aspiring entrepreneurs and underrepresented minorities should be able to achieve their goals without being held back by race or ethnicity," Sophia said. "There are so many bold and courageous intellectuals who could reach soaring heights, but they're held back by discrimination. We want to make sure they can get to where they should be, because they deserve it."
Vivamus magna justo
Vivamus magna justo, lacinia eget consectetur sed, convallis at tellus.
<!-— twitter card tags additive with the og: tags -->