Future-proofing your small business starts with the cloud, but it doesn't end there. There are many ways to innovate, and emerging technologies can accelerate and deepen our understanding of things like customer behavior, streamlined and smarter transactions, and tracking your business goals.
In this blog series, we'll cover a few ways to gain a competitive advantage in your industry by bringing the physical and digital worlds together using technology.
+++++
Many people think that blockchain is only for the creation and exchange of money/cryptocurrencies, such as Bitcoin. But blockchain can be used for any type of value-based transaction—to exchange money, property, goods, services or anything that requires an enforceable contract or authorized access.
It's a new way that people and companies can create, verify, and enforce value-based transactions, and offers a safe, secure, and transparent way to negotiate and transact in real time without paying for a middleman. Because each transaction is immutable, encrypted, and protected by permissions, no one else can tamper with it.
For the blockchain to work, parties need to agree to pre-established terms, such as the nature of the transaction and how they will work together. Once these rules are established, the blockchain does the following:
Creates the transaction by recording it on the participants' individual, decentralized blockchain ledgers

Verifies the transaction (After recording the transaction, each individual ledger independently verifies that the transaction is valid by double- checking the information with the other ledgers involved.)

Secures the transaction with encryption technologies

Enforces the terms associated with the transaction, such as net payment terms
Most early adopters are large businesses that are using blockchain to accept cryptocurrencies, but cloud-based providers are embedding blockchain capabilities into small business solutions. Intuit has already enabled QuickBooks to accept cryptocurrency payments. Because the blockchain eliminates the payment processor from the transaction, small businesses can save money on processing fees.
Since blockchain is still in the very early stages, most small businesses don't yet understand it, and only 8% are currently using it. As vendors add new blockchain capabilities to their applications, small businesses will see new ways to use and benefit from it.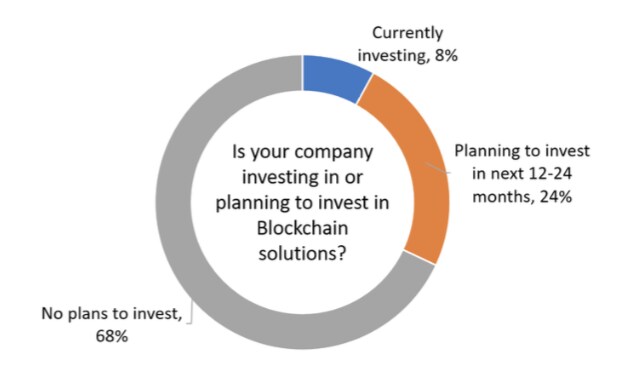 Some developments to watch for include "smart contracts" for things such as real estate transactions, loans, and financing, and the ability to identity verification to code a person's information, so his or her identity can be verified before that person is allowed to access a digital entry point, like a paywall on your website.
What are your biggest hesitations with adopting blockchain in your small business? Let us know in the comments!