From my favorite neighborhood restaurant in New Orleans to a landmark bookstore in London, to a print shop in Bangalore, small businesses are the backbone of communities around the world. Combining local investment and opportunity with a familiar face, they anchor commercial hubs, reflect the character and priorities of their customer base, and provide valuable continuity across generations.
At Intuit, it's an important part of our mission to help these businesses stay healthy so their doors can stay open—a rising challenge in the modern economy. Today, our artificial intelligence initiatives offer more ways than ever to achieve that goal.
Each year, thousands of ambitious entrepreneurs start new businesses, full of optimism and hope. Unfortunately, the odds aren't in their favor. Report after report shows that more than half of these ventures will be gone within five years. And every year, we see the unique character of our neighborhoods and city centers fade with the demise of traditional old-line small businesses. This is more than just a loss of local color.  Small businesses are the economic engine of countries all over the world, accounting for more than 99 percent of all businesses in the U.S. and the E.U., so their fate matters to all of us.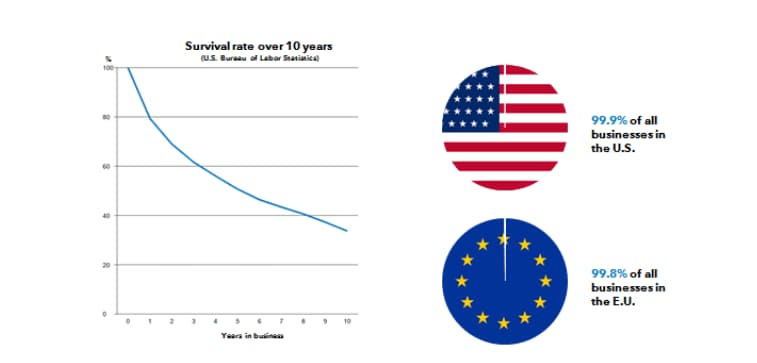 Small businesses face tough odds…and there are a lot of them
The search for a small business lifeline
There's no shortage of challenges facing small business owners, but one stands above the rest. A full third of small business owners cite a lack of capital or cash flow as their greatest challenge. This financial crunch makes it hard to compete effectively against big box stores and online retail. That's especially true in an increasingly complex, technology-driven business world that gives large enterprises a sizable edge.
Large businesses already use AI to extend their competitive advantage—why shouldn't small businesses use it to level the playing field? Put simply, it would never occur to most of them to do so. There's a common perception that AI is complicated, expensive, overwhelming, and outright scary, a capability reserved to large enterprises with huge budgets. On an aesthetic level, AI can seem antithetical to old-world charm, though of course there's nothing charming about going out of business.
More practically, small business owners might not see the relevance of AI to their needs. What do machines, robotics and the Internet of Things have to do with main street retail, boutique professional services, and owner-operated kitchens? Why would they disrupt their day-to-day operations with newfangled technology that seems unproven, risky, and likely to make me vulnerable to security breaches? Even if they could be convinced that AI would help grow my business, they don't have the technical expertise to take on a major initiative like this.
Here's our solution to the conundrum. Democratize AI so it makes sense for small business: relevant, practical, and simple. This isn't a matter of transferring enterprise strategies to small businesses and running it at a cheaper scale. It's about tailoring and personalizing technology derived from big business to match small business needs. Here are a few examples of how Intuit is bringing Fortune 500 AI to the little guy down the street.
Funding small businesses when they need it
Access to capital can make all the difference for a small business. Getting financing through a traditional bank can be a long and frustrating process that too often ends in a "no"—if it hasn't already resulted in a quick "no." QuickBooks Capital lowers the barrier by using advanced machine learning techniques and rich data sets to identify small business owners who are worth taking a chance on. In fact, 60 percent of QuickBooks Capital customers would likely not get a loan elsewhere. Each of those loans can be a success story that keeps a "Going out of Business" sign out of a shop window.

QuickBooks Capital: addressing an underserved market
(60% of customers approved for loans are "un-lendable" by financial institutions)
Predicting cash flow to help small businesses prepare for what's ahead
Cash flow is another classic small business pitfall. It's hard enough for a consumer to keep income and expenses balanced from week to week. Add all the variables of small business operations and market variability, and it's no wonder shop owners get caught short, as you can see in the results of our State-of-Cash-Flow Survey Report. 
That's why Intuit is now using data analysis and machine learning to make accurate, personalized cash flow predictions for small business customers. Using historical data, with our customers' consent, and a breadth of data from similar businesses, we've discovered how to use AI/ML to identify telltale patterns to help small businesses make better financial decisions. Techniques such as predictive intelligence, time series modeling, transfer learning and deep learning can empower an owner to determine whether this is the right month to invest in that new piece of equipment or ramp up production or spot a payroll issue early enough to take preventive measures. This feature is currently available through QuickBooks Assistant in the U.S., with QuickBooks Online soon to follow.
Easing the pain of doing taxes
Tax preparation can feel like the worst of all worlds: the US tax code is complex and changeable from year to year.  Yet, returns and estimated payments have to be completed with a high degree of precision and accuracy. A filer could always claim the standard deduction instead of facing the drudgery of itemization, but what if that means leaving money on the table? Narrow small-business margins mean it's crucial to make the right choice. TurboTax uses rules-based AI and machine learning to eliminate the guesswork. By answering a few simple questions, customers can learn whether standard or itemized is best for their situation. Of 15 million eligible TurboTax customers, we estimate that nearly 90 percent of them will now take the higher standard deduction, saving the time it takes to file their taxes.  That's time much better spent for the benefit of the business and its customers.
Eliminating time spent on data prep and entry
Every small business owner is shadowed by a pile of paper documents waiting for their data to be entered into the system. It's tedious, time-consuming, and error-prone. Intuit's document understanding project is using computer vision and machine learning to make data entry obsolete. The company-wide initiative aims to build a platform that captures and classifies images and data from structured and unstructured user documents of all kinds—smartphone photos, PDFs, forms, and so on. This will complement existing capabilities such as the auto-classification of business expenses for QuickBooks Self-Employed users based on a frequent pattern mining technique. It's one more way we'll help small business owners focus their time and attention in more valuable ways than mind-numbing administration and paper-pushing.
The bright AI future for small businesses
Stepping back and taking the broad view, we're confident that the future is bright for small businesses. AI is already powering smart, breakthrough products and services, and there's so much more to come.
We think of it in terms of three phases, corresponding to increased levels of automation.
Phase 1 – Human-centric AI applied to tracking and recording. This includes the automation of tasks, data entry, categorizations, and analytics to save time and effort while increasing accuracy. Examples include document understanding, cash flow forecasting, and tax/financial schematization—the kind of things I've discussed in this blog.
Phase 2 – Augmented AI for managing finances and business. These capabilities will assist with planning and decision-making, providing advice at the right time of need. In this phase we'll see more personalization and recommendations based on a knowledge graph.
Phase 3 – Autonomous AI. Here we'll see fully autonomous systems for managing finance and business tasks such as accounting and compliance, powered by a cloud-based intelligence system.
This is cutting-edge knowledge engineering, natural language processing, machine learning, and reasoning systems, tailored to the needs and technological maturity of the typical small business owner. It's an honor to work alongside so many brilliant data scientists, software engineers and designers here at Intuit who are using AI to bring this vision to fruition. Together, we're on a mission to power the backbone of communities all over the world, now and into the future.