At Intuit we believe in powering prosperity around the world. While prosperity means different things to different people, we want everyone to be able to live the life they want, including our employees. We want to be a company where employees can bring their whole self to work and do the best work of their life.
In this second installment of Intuit's new Day in The Life series, we meet Kimbra Brookstein, senior program manager for Tech Women @ Intuit (TWI). TWI is an internal initiative that focuses on attracting, retaining and advancing women technologists. The group's goal is for Intuit to be the number one choice for women technologists.
++++
Intuit: Every great day starts with …
Kimbra: A medium coffee (in a large cup) with an additional shot, non-fat milk and two equals!
Intuit: The best part of my day is …
Kimbra: My cardio combat class (Hii-YA!). High-intensity cardio is my favorite way to build strength, stay in shape and keep my mind sharp.
Intuit: Where did you grow up and how did it shape who you are today?
Kimbra: Santa Barbara, California, with one-year stints in Vancouver, Canada and in Prague, Czech Republic. I've also lived in Maryland, Davis, and Los Angeles, but San Diego is home. We moved there when I was about 12 and I returned here five years ago. All the moving around I did as a kid – especially to Prague – sparked my love of travel today.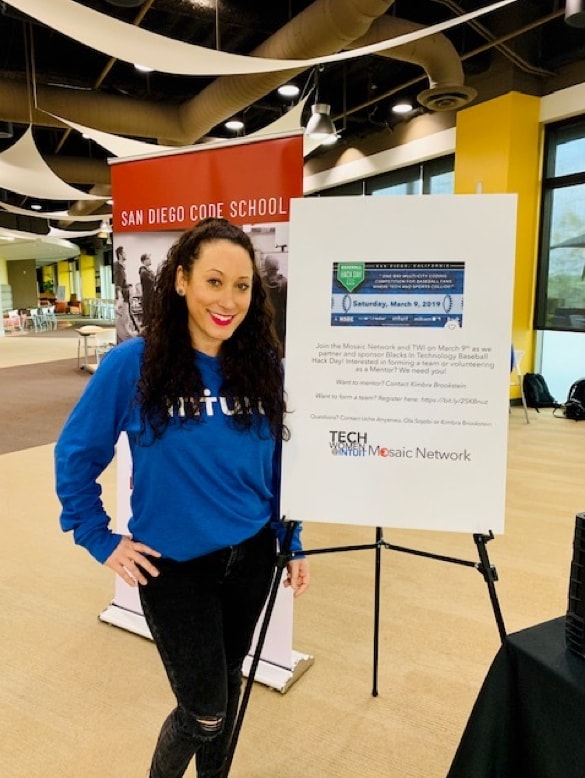 Intuit: What are you passionate about?
Kimbra: Traveling and getting to know different peoples, cultures, food and histories. I try to do at least one or two international trips a year. Traveling opens your eyes to how big the world is, puts things into prospective, and makes you appreciate what you have!
Intuit: What brought you to Intuit?
Kimbra: It was a presentation at my former workplace organized by Intuit Technology Evangelist, Aliza Carpio. At the event, Intuit Chief Architect Alex Balazs presented to the group and was so eloquent, passionate and relatable. During his speech I told my then boss that I wanted to work for Alex and Intuit. Little did I know, within the year I would have the opportunity to interview for my current role, my dream job!
Intuit: How would you describe your job to your mom?
Kimbra: I build community and create and implement strategic programming that helps attract, retain and advance Tech Women at Intuit.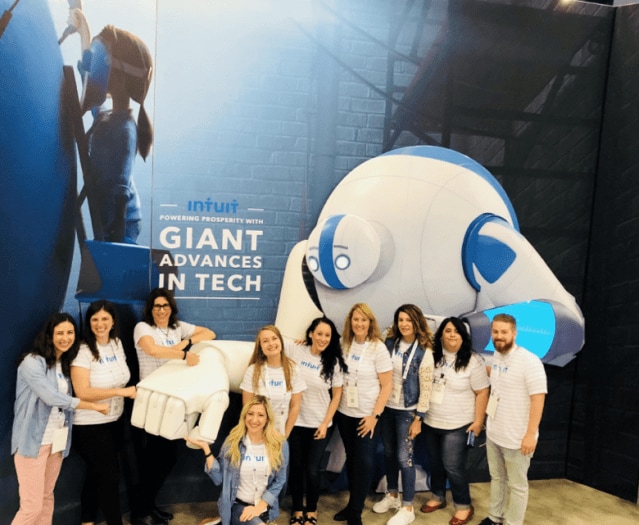 Intuit: What is your favorite part about your job?
Kimbra: Everything! I love working on a team with the purpose of ensuring women are empowered and diversity is embraced. I love the community I have helped build and seeing the direct impact of my work. The best part of the job are the technologists I serve and stakeholders across the company that I partner with. It's very rare for a company to have a fully funded initiative under the CTO that is dedicated to the attraction, retention and advancement of tech women.
Intuit: What is your favorite part about Intuit?
Kimbra: Aside from the awesome culture, the work-life balance and the outstanding benefits, it's the team I work on and the impact we have on others. Tracy Stone, our global leader of Tech Women @ Intuit, really supports our team and enables us to experiment, iterate and launch new programming to create the most impact for our technologists. I also love that Intuit's goal is to reach gender equality across the company.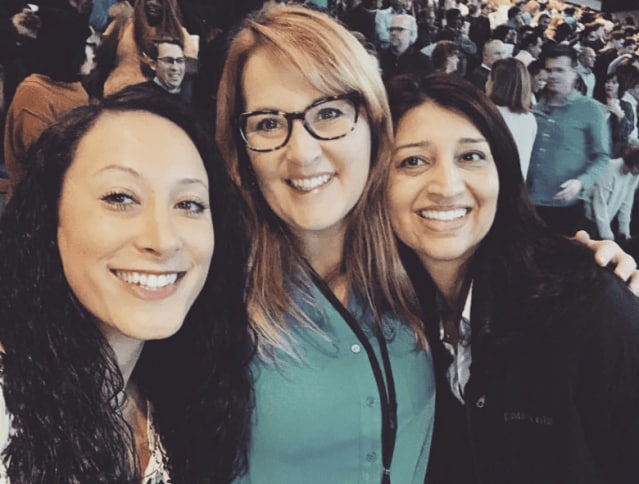 Intuit: How does the work you do every day help power prosperity?
Kimbra: In three main ways:
My internal clients – our technical women. Creating an inclusive culture where women have the tools and resources to thrive is essential to their happiness, their desire to solve the hardest problems and their ability to deliver awesome to our customers. Programs like Intuit Again, Intuit Circles, mentorship and sponsorship opportunities, a book csome of the ways we're helping power prosperity for our technologists.
Local partner organizations. Our partner organizations help power prosperity for Women in Tech and Women In STEM. Organizations like Athena SD, Girl Develop It SD, Girls In Tech SD, Women Who Code SD, Designing Women, StartR Inclusion, EvoNexus and Startup San Diego.
Global level. Our TWI partners – such as Anita Borg Institute, NCWIT, Watermark and Girls Who Code – help power prosperity by exposing and supporting Women in Tech and STEM.
Intuit: Intuit aspires to be a workplace that encourages diversity, inclusion, belonging and equality. How does the work you do support this?
Kimbra: The work I do ladders up to TWI's overall mission of Intuit being the No.1 choice for female technologists, where women are empowered and diversity is embraced. Part of my responsibility is to ensure teams are aware of our goals and internal programs that support inclusion and belonging.
In San Diego, I lead a TWI SD Core Team with representatives/volunteers from different genders, business units, career levels and responsibilities. They provide feedback and share out Tech Women @ Intuit's overall goals to their own teams. This helps encourage the diversity and inclusion aspect of our work. We want everyone to own this initiative and feel welcomed to join our TWI mailing lists and participate in all events.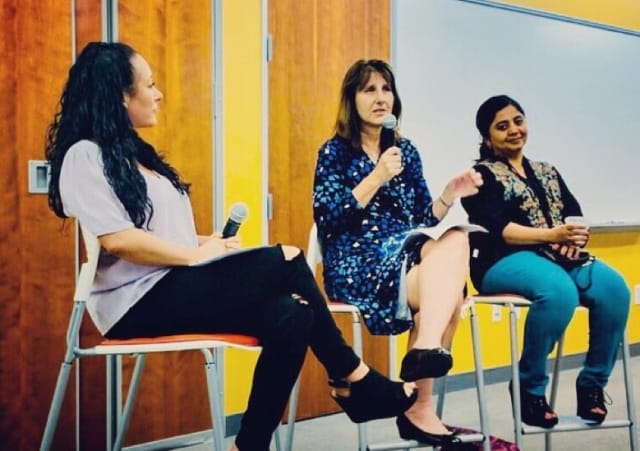 Intuit: Tell us a little bit about what you're working on to support Women's History Month in March.
Kimbra: It's been such an exciting month! Here's a taste of what we did in San Diego to celebrate our tech women:
We hosted our 2nd Annual TWI Lightning Talk session in honor of International Women's Day. We had 22 technologists give short talks to over 85 total attendees on topics like technology, tools, career growth and communications. It was a huge success!
TWI partnered with the Mosaic Network (Intuit's African American Ancestry Network) to sponsor Blacks In Tech's annual Baseball Hack Day – a one-day hackathon taking place in many cities at once. All three groups came to the table with the goal of bringing a diverse and inclusive tech community together.
On March 29, TWI will host our third Book Club meeting, a program designed to start the conversation about women in tech, build community and educate attendees.
TWI also partnered with Intuit Women's Network to cross promote multiple campus activities – such as an IWN interview with Intuit Board Member Deb Lou in Mountain View, and an IWN site social in San Diego featuring "Women of Note" and an all-female mariachi band.
Intuit: Walk us through a typical day for you as an employee and as a leader of TWI.
Kimbra: Every day is so different. Programs launch and new partnerships form. On any given day, I could be running a focus group to gather feedback from our technologists, or I could be in a coffee meeting coaching or mentoring an early-career engineer. I could be strategizing and laying out the next iteration of our Mentorship program, or onboarding our San Diego Intuit Again cohort, or sitting on a Women In Tech panel in San Diego. The dynamic variety is what I love about my role!
++++
Are you interested in making a giant impact with your next career move? At Intuit, we help power prosperity for approximately 50 million people while supporting our employees to do the best work of their life.
Be inspired by a culture that supports innovation where passionate people help make Intuit a Fortune "Best Place to Work" year after year.