Gender parity doesn't happen when we continue to take the same steps to hire, retain and invest in women. It requires our company doing things differently, and investing in future generations too.
Last March, I had the opportunity to speak to international diplomats and business leaders at the United Nations headquarters to dive into what gender equality means to Intuit and across society. We committed to continuing to make investments that raise the inclusion of women both across our offices worldwide and in society.
While there are many ways to approach measuring success, there's tremendous power in having access to information and data. We've taken strides recently in instilling greater transparency for employees that includes building dashboards with diversity and pay equity stats as well as communicating how we're measuring success. Through new reporting initiatives, we've put a microscope to not just our diversity and pay equity figures, but also to the programs, processes and inclusivity that are core to who we are.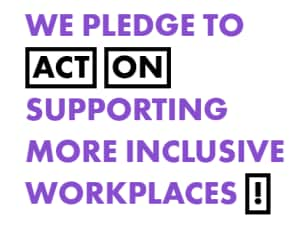 Digging deep and sharing where we stand allows us to lean into the areas where we need to improve, and also know what to share that might be instrumental to helping our peers improve as well. For example, in 2019, our CEO Sasan Goodarzi signed the CEO Action plan, the largest CEO-driven business commitment to advance diversity and inclusion within the workplace. Since then, we've shared blueprints for how we're building a more inclusive workplace and Sasan has addressed hundreds of other CEOs on the importance of transparency.
Here's Why Transparency Matters
As a first step, it matters when companies like Intuit choose to disclose how we're treating employees, others follow suit and we can spot industry trends that are setting us all back. Plus, holding a mirror up to our policies, programs and improvement is a healthy exercise for us as a company, as we look to live up to our value of integrity without compromise. We say we're a best place to work, and we mean it. 
Earlier this month, Intuit was listed on the Bloomberg Gender Equality Index (GEI) for the first time, which only further underscores our commitment to transparency. To participate in the GEI– which ultimately serves as an indicator for investors who are increasingly focused on how and what companies are doing to advance diversity and inclusion within corporations– Intuit voluntarily disclosed over 60 data points related to gender equality, pay equity and how we treat women in and outside of Intuit. 
Overall, we scored at par or ahead in most categories within the index, such as our policies around sexual harassment, data excellence, inclusive culture and even how much we chose to disclose and the excellence of our data. And yet, we know we can do much more. 
Pay Equity
Compared to the other 300+ companies in the index, Intuit ranked slightly below others in the pay equity category, largely because we chose not to disclose as much information as our competitors.
Through the process, our team learned that data requested is not aligned with how we are currently conducting our global pay equity analysis, so we didn't have information requested by the questionnaire. Even the lack of readily available data pointed us toward an area we might have otherwise overlooked.
Intuit has initiated the same standards for pay equity put forward by the mandated system in the UK, which compares average salaries for men and women, regardless of roles and responsibilities, to provide companies with a complete understanding of the balance within their own organization. Measuring this way allows corporations to spot potential talent pipeline issues. For example, if there have been few female middle managers in prior years, there are fewer women being paid at the top of the range as fewer women find themselves in the top leadership positions. We are continuing to look at salary, bonuses and global discrepancies under a microscope, through the guidance of global standards, GEI and other leading experts.
Looking ahead
If we want to continue advancing the journey towards global gender parity and truly improve outcomes around the world, Intuit must invest outside our own walls. This investment into key organizations that train women and help close the education gap have become imperative to our overall diversity & inclusion strategy. We believe, as a company, that caring and giving back means we continue to build the powerful and positive position Intuit plays in turning the tides on equality. 
We will continue to stay invested in new technologies, and better ways to reach parity. We also remain committed to fostering a safe, ethical and inclusive work environment. 
In 2020, we look forward to…
Rolling out an inclusive leadership training to ALL employees–over 50% of Intuit managers have completed the training to date

Implementing an annual diversity and inclusion survey that will focus on allyship, objectivity, belonging, growth and discrimination 

Hosting Intuit's first-ever, Trans Summit, aimed to help build the foundations of change for employees who identify as transgender and non-binary

Accelerating our hiring of Black and Latinx employees through focused recruiting efforts

Lastly, increasing diversity of interview panels and ensuring we have written hiring criteria for each  
And above all, we will continue to share our best practices not only with our employees, but through the CEO Action network, to our investors and beyond. This is what it will take to see a global and permanent shift toward equal opportunities and equity for women.