Intuit recently conducted a national survey to better understand Americans' financial outlook. And while the responses revealed current struggles, you are hopeful for the future.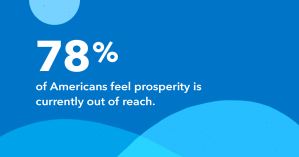 Not only do most Americans feel prosperity is currently out of reach, but more than half of Americans aren't confident in their ability to manage their finances and achieve prosperity. This leads to difficult situations like living paycheck-to-paycheck, not having any savings, having too much debt, and not being able to fully support themselves.
But it goes beyond finances. Americans are postponing their version of the American Dream. Most are delaying important personal milestones like purchasing a home, retiring, starting a family, starting a business, or getting married.
But there are ways that you can push forward.
Turn your optimism into action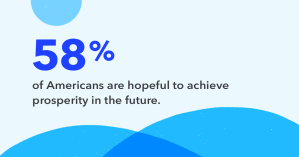 Even with these challenges, Americans are united in their optimism. 80% of Americans see financial success in their future, and 58% are hopeful they will achieve prosperity over time.
But achieving prosperity takes action. Here's what you can do:
Determine what prosperity means for your life. While everyone's goals are unique, finances play an important role for nearly all (87%) Americans. Reaching certain financial goals such as having money in a savings account (69%), being able to provide for others (64%) or being financially successful (59%) enable you to live the life you want.
For you, that might mean venturing out on your own by starting a business. More than 1/3 of Americans are considering getting a side gig or an additional source of income, and 37% are considering becoming business owners or self-employed within the next five years
"That energy [of venturing out on my own] helped me push through the fear of leaving a stable income and find clients and collaborations that allowed me to build my business faster than expected and make even more money than I was before."
– Natalie Paramore, solopreneur and lifestyle blogger, natalieparamore.com
Like Natalie, the benefits that you can gain by starting a business aren't merely financial. You can also enjoy emotional and mental benefits such as:
Personal empowerment
Greater satisfaction
In fact, small business owners are nearly twice as likely to say that they feel more prosperous than those who work traditional 9-to-5 jobs. And 1/3 say they have been able to achieve prosperity because of the decision to open a small business and be their own boss.
Remember, we're in this together. Get smart and simple tips from financial experts like Tiffany Aliche. Don't be afraid to ask friends or family for help. In fact, Gen Zers (66%) are more likely than Millennials (54%) or Gen Xers (34%) to turn to their family members for help. Consider who you can help. You may know more than you realize. Pass along your knowledge to aspiring entrepreneurs — chances are you know someone who is thinking about it.
Prosperity for all
There are many ways that you can take action to achieve prosperity. From simple steps to build your financial confidence to taking a leap of faith to start that business you've been dreaming about, it all adds up to help you live the life you want.
Learn more about Intuit's Pursuit of Prosperity Study here.