Future-proofing your small business starts with the cloud, but it doesn't end there. There are many ways to innovate, and emerging technologies can accelerate and deepen our understanding of things like customer behavior, streamlined and smarter transactions, and tracking your business goals.
In this blog series, we'll cover a few ways to gain a competitive advantage in your industry by bringing the physical and digital worlds together using technology.
+++++
Artificial intelligence and machine learning technologies can help businesses—small and large—predict customer buying patterns, analyze product and service quality, personalize customer discounts, and gain insights in an intuitive, contextual way. Businesses can reap big rewards from these technologies—but it takes a lot of technical expertise to build and implement AI and ML infrastructure and algorithms.
Fortunately, cloud platform and solution providers are starting to embed AI and ML technologies into their applications to make them "smart." This helps level the playing field for small businesses that want to take advantage of these technologies but don't have data scientists and analytics experts on staff.
Small Business Investment and Plans for AI and ML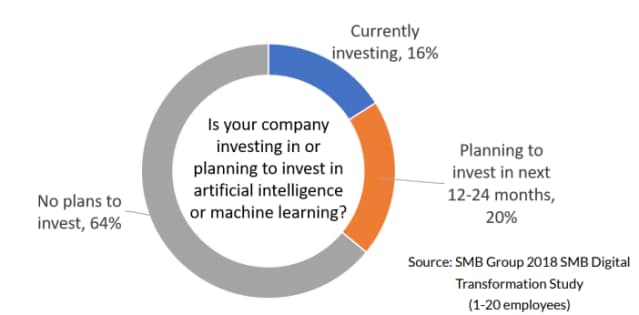 Intuit uses AI and ML to automate rote data entry tasks in its products like QuickBooks Online and QuickBooks Self-Employed—giving you more time to focus on work that adds value to your business. For instance:
Categorization automatically categorizes transactions when you import spending activity from bank accounts such as expense categorizations, saving users hours of manual tracking.

Expensefinder

helps self-employed users keep track of and differentiate between personal and business expenses by proactively gathering and scanning bank accounts and credit card transactions.
Conversational voice and chatbot technology, such as QuickBooks Assistant, can help you ask questions and get the insights you need to make better decisions in real time.
While it's easy to see the dramatic impact that technology is having on business, it's often tough to find the time, expertise and resources needed to put that technology to work for your business.
However, you won't need to become a technology expert. Cloud application vendors are investing in AI, machine learning, blockchain and other emerging technologies to give you new and better ways to build and grow your business in today's digital age.