Better preparing students for the job market means bringing real-world tools into classrooms to help develop key skills and an entrepreneurial mindset. But that's not all. Access to real-world experience is critical for students to gain the confidence they need to succeed.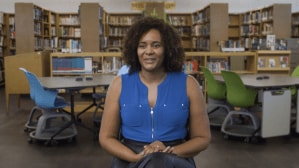 Dr. Silke Bradford is the Career Technical Education Director for Compton Unified School District. A core part of her job is to create ways for students to build job skills and complete career readiness training so that they're ready to enter the workforce after graduation. "Educating the next generation means that we have to pivot during tough budget conversations," says Bradford. "Many school districts deprioritize electives like business finance or culinary arts because they're seen as extras or electives." The Compton School District is different and sees these types of programs as critical ways to prepare students to be successful in life.
The district wants to elevate their culinary arts program. That requires costly commercial kitchen equipment. But remodeling just one of the district's three kitchens can cost up to $1.8 million. Unfortunately, that means that it can become incredibly cost-prohibitive to provide robust culinary programs to their students. 
Getting real-world experience on wheels
Bradford and the Compton School District had a vision to do more with their culinary arts program. Through Intuit's donation of a $200,000 commercial food truck and providing curriculum to teach business and accounting skills, we're able to partner with Bradford and the Compton School District to help students be more prepared for their future jobs.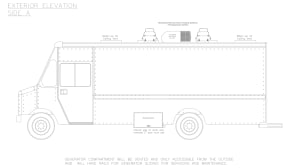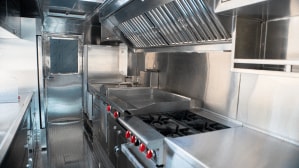 In addition to having the option to get their food handler certification, students will also get hands-on experience working with commercial fryers, refrigerators and more as part of the food truck. "Whether they're working in the hospitality industry or opening their own catering business," says Bradford, "students will be able to use the skills they're learning today to create their masterpieces tomorrow."
Learning entrepreneurial skills and more
Bradford shares that parents and those in the community mention that no one taught them how to budget or the implications of opening a credit card. A handful of mistakes can lead to a lifetime of debt. Today's students deserve better.
Instead of paying thousands of dollars out of their already tight budget to develop and teach financial literacy, Intuit can help. Our Job Readiness program provides the tools, resources and support to prepare Compton Unified District school teachers to successfully teach students how to do their personal taxes as well as personal finance basics like budgeting, credit scores, savings and more. Our robust programming helps students take control of their financial future. We even offer a QuickBooks certification, where students can become certified in QuickBooks to be better prepared for the workforce.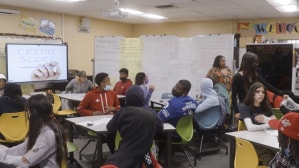 "Transformation of a community comes through economic opportunity," says Bradford. "I believe that as an education institution, we're supposed to equip our students, not for the jobs of 30 years ago, but for the jobs of today." Her dream is that Compton Unified School District will prepare its students so well that companies will be first in line to employ their students. 
Doing our part to help make a difference in the greater Los Angeles community and beyond
Our work with Bradford and the Compton Unified School District is just the start. As part of our partnership with the LA Clippers, we're launching initiatives to reinvigorate the local economy and local businesses that create jobs, enable job readiness, and educate entrepreneurs to help them better run their businesses and transform their financial lives.
In addition to our Job Readiness program, we're expanding our Prosperity Hub School District program, which empowers the next generation of students to learn about finances and entrepreneurship, in the LA area. We're also committing an additional $1 million over the next three years to underserved school districts that are part of the program to make a long-term impact on the local economy. 

In addition to our work supporting the greater Los Angeles area, we also know that many students don't have the skills they need to thrive in today's job market. We want to do our part to help students develop the skills they need to be prepared for jobs in an innovation economy. We've helped prepare over half a million students for jobs, and will help 3 million more by 2024, empowering students to build financial, durable, and entrepreneurial skills with the confidence to create the futures they want.
To learn more about our job readiness efforts, visit our website.