At work, in school, and throughout everyday life, a varied mix of ideas and viewpoints always enhances the experience. As a company, we're proud to invest in inclusive measures, to make sure that Intuit is an environment where people feel supported to do their best work.
The Special Needs and Abilities Network (SNAAN) continues to make Intuit a space where everyone feels welcome and comfortable to do their best, while creating products that support all abilities.
We had the opportunity to chat with Samantha Rembo, global co-lead of the SNAAN, to learn more about the program, and how they are using their 3 pillars to help customers, employees, and their families.
+++++
Intuit: How did you first become interested in SNAAN?
Samantha: My first ten and a half years at Intuit I was in talent acquisition and had just moved into a new role leading the Customer Connect team. I was looking for opportunities to give back to my community and get more involved at Intuit.
At the time, I had a friend who is a Paralympic athlete and started becoming more aware of the opportunities available and how many restaurants in downtown San Diego have limited seating for wheelchairs. My mom is a special education teacher and outside of work I am the president of the board of Adaptive Sports and Recreation Association (ASRA) in San Diego. We provide a camp and year round sports programs for kids and adults with physical disabilities. I'm also on the board of Springboard Foundation which provides college scholarships to students with any type of disability.
Given my background, I was interested in seeing the different opportunities that we have to grow the community, provide resources for both our employees who have special needs, as well as their family members.
Intuit: Can you tell me more about SNAAN and what it does?
Samantha: Sure! The mission of our network is to enhance the contributions and potential of people with special needs, including our employees, our customers, and our community. We have 3 different pillars that we are focused on.
"The first is raising awareness and educating all of our product teams on what it means to design and engineer to be accessible."
This includes ensuring that accessibility is a key element on the product road maps and implementing accessibility stations across our sites so people can learn first-hand what it is like to interact with our product if you have any type of disability.
For example, workshops where designers wouldn't be able to use their sight or other physical limitations when using a keyboard. It's important because many of our customers have a range of disabilities and we want them to considered throughout the creation.
Also, from a business perspective, we have partnered with the Care team as part of their training to ensure that they understand the accessibility elements of our products. That way when people call in, they are better able to support their needs and understand how the things might look different or sound different or feel different for them.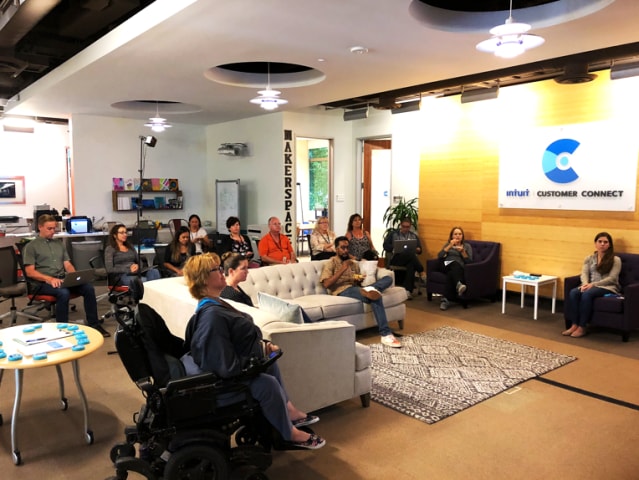 "Second: attract, develop, and retain top talent."
We're continuing to ensure we have roles and opportunities for people with different abilities to join Intuit. Ensuring proper workplace accommodations and that our buildings are accessible and our travel process seamless. Attracting talent, retaining talent, ensuring that they have the best experiences and understand everything that is available to them is a big focus for us.
We have a great partnership with our Total Rewards team to ensure that they are continuing to enhance offerings for employees and family members with disabilities and special needs.
"The third pillar is enhancing our reputation and brand."
We want to make sure we have external representation and best practice sharing. We have active chapters in Reno, Tucson, Plano, Fredericksburg, and India, and we are looking to build out Mountain View and any other site that is interested.
Each of the local chapters have slightly different focus areas depending on the makeup of their local teams. For example, in some cases there is a focus on mental health, in other locations the focus is more on autism awareness, in other locations it might be more around physical disabilities. So it really varies and we provide the overarching strategy that they then can take and do what is right for that site.
It is a unique network that spans across so many different dimensions. It includes employees who might have their own situations, or those who have kids with special needs. The network allows them to also have a place where they can share experiences, stories and resources with each other. Not everyone is comfortable talking about their challenges and so really making sure people are connected with other employees who are having similar situations is important.
Intuit: How is Intuit supporting SNAAN's initiatives?
Samantha: When we talk about bringing your whole self to work, it really means bringing your whole self. People have a lot going on, and sometimes you bring the stress from home into work, or after you leave there are things you have to deal with, or if you have a child that has special needs and you get a call in the middle of the day.
It is being able to have those conversations, it is being able not only to bring your whole self to work, but it is also making sure our employees understand what is available and in some cases pushing them to leverage the resources available. For instance, employees can use their sick days for mental health days.
We hold disability education trainings where we provide the basics about different disabilities, both the visible and invisible. The trainings help make people aware that there can be more going on with someone and how you interact with different people.
If someone is in a wheelchair, do you sit or stand? How do you engage with them at an eye-to-eye level? How do you communicate with them? One thing we learned from these trainings was that people want to talk about mental health, including how to be more open in discussing it.
We are trying to remove the stigma around mental health by getting more people to talk about it and share their experiences.