At Intuit, proud maker of TurboTax, QuickBooks and Mint, we believe that every employee should bring their whole self to work. Our Intuit Pride Network employees are leading the way by coming together to create training that promotes a safe space for everyone and educating what it means to be an LGBTQ+ ally.
History of our Intuit Ally program
Two years ago, Intuit's Pride Network Co-Chair, Cherise Slover attended an Out and Equal Summit in Philadelphia, which outlines the importance of diversity and inclusion in the workplace. Top companies from around the world, such as Bank of America and Disney, all have Ally programs for their employees. Being LGBTQ+ herself, this really hit home. Before joining Intuit, she hid who she was at work out of fear of discrimination.
At the summit, the attendees learned that LGBTQ+ contract employees across the country were not only afraid of coming out to their peers and employers for fear of missing out on a permanent position, but afraid to associate with anything LGBTQ+-related at work for fear of their manager's reaction.
It was clear to Cherise why Intuit needed an Ally program: employees need a way to openly showcase their acceptance of the LGBTQ+ community so all current and future employees feel welcome and like they belong. A place where managers are LGBTQ+-friendly, and everyone feels safe to be who they are. Along with the Pride leaders and members, the group came together and received approval to put together and launch Intuit's Ally Program.
What are the goals of the Ally program?
The Ally program will translate into safe spaces across all our campuses and provide an open and inclusive workspace for all. The first step in this program is giving all employees who join the Ally program an "Ally badge" next to their name on Intuit's internal intranet. Completion of the training also provides employees with a "Safe Space" card that can be displayed in the employee's workspace. It's gamification to change the perceived norm – employees see badges and want to get their own, creating a domino effect that in turn brings inclusion into the new norm amongst peers.
The Intuit Pride team has the goal of introducing education to those who are unaware of the daily struggles that employees may encounter and how the entire company can come together as One Intuit.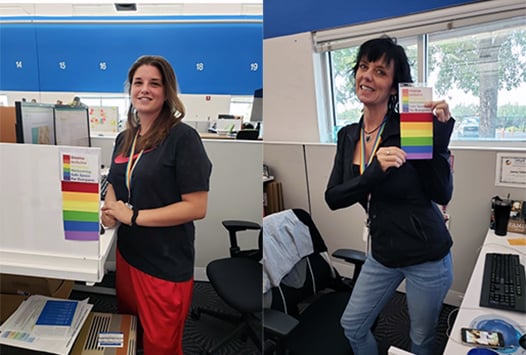 How does the Ally program work?
All employees can be a part of the program. Whether you support LGBTQ+ as a straight ally or you are out at work, you are offering a safe space. We are hoping that with this program, all employees will feel safe and proud to be who they are – bringing their whole selves to work each and every day.
We currently have two levels of training and launched our most recent training earlier this month.
Bronze Level Training
Last June, as part of Intuit's Pride celebration, the team launched the Bronze Level Training. Once the training is complete, employees have the option to join the Ally program and receive an "Ally badge" next to their profile on Intuit's internal intranet along with an optional "Out and Proud badge". Completion of the training also provides employees with a "Safe Space" card that can be displayed in the employee's workspace.
Silver Level Training
Earlier this month, the Pride Network rolled out the newest level of training that explores new ways to encourage employees to role model leadership and safe spaces both for the LGBTQ+ community and employees across Intuit. The training includes learning about LGBQT+ 101, proper vocabulary and labels, and the proper use of pronouns.
In addition to the web-based training and completion of Bronze Level to complete the program, employees will need to participate in tasks that further promote inclusion, like having a safe space conversation on site, hosting a volunteer event with a focus on the LGBTQ+ community, or helping an LGBTQ+ co-worker, friend, or family member. Once completed, employees will have the option to add the newest Silver Level Ally badge to their profile and can receive a desk display to celebrate their commitment to fostering a diverse, inclusive, accepting, welcoming safe space for everyone.
The importance of inclusion in the workplace
We believe that innovation thrives in a workforce that includes employees with a wide range of life experiences and a supportive culture that lets great ideas rise to the top. The Intuit Pride Network continues to focus their work to foster inclusion with a focus on creating safe spaces for LGBTQ+ at our Intuit sites and increasing LGBTQ+ knowledge across the globe. This includes educating Intuit employees on ways to be an effective LGBTQ+ Ally and educating senior leadership teams on workforce statistics, industry best practices, and impact testimonials.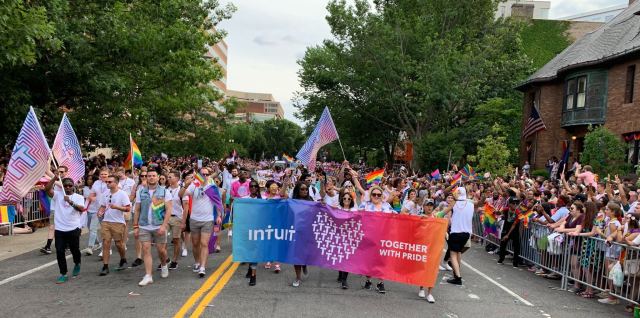 And while we're proud of our legacy, our work is far from done. We're not satisfied until we reach parity and will continue to focus on achieving equality in the workplace through our commitment to helping power prosperity not only at Intuit, but around the world.