It's no wonder people line up for the ice cream made at Saffron and Rose in Los Angeles — their recipe has been perfected over the last seven decades.
Saffron and Rose's owner, Freddy Papen, is the third generation of his family to run the small business. It started with his grandfather, Ali Kashani-Rafye, in Iran 75 years ago. Ali's treasured ice cream recipe, known for being both rich and fragrant, traveled with him from Tehran, Iran to the United States. Saffron and Rose has remained a family-owned business decades later and Freddy is honored to continue the tradition of creating unique and delicious ice cream flavors.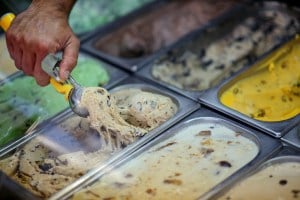 Freddy grew up around the family business and learned how to make the ice cream in his 20s. It was a life-changing moment when he took over their small business. "I really can't drop the ball here because my uncle put in 20 – 30 years, my mom put in 20 years, my gramps put in like 75 years," says Freddy. He went from working 15 hours a week to working seven days a week, from wearing one hat to wearing multiple hats. Freddy also felt the weight of responsibility as a business owner. 
As a global technology platform, Intuit helps customers like Freddy overcome their most important financial challenges. Our innovative products and services improve our customers' lives, opening up expanded possibilities. We're there for our customers in their important life moments — whether it's expanding your family's business, getting the band back together, celebrating a quinceañera, paying down your college loan, or getting the invoices out on time so that you get paid.
It's no wonder that Saffron and Rose is a successful. With traditional Persian ice cream recipes like saffron and rose (the two originals) as well as more mainstream flavors like strawberry, coconut, and Nutella, the store became a destination for ice-cream lovers. Saffron and Rose had 20-40 employees depending on the time of year, and an in-house accountant who used QuickBooks to keep the company finances in order. "Quickbooks has revolutionized our accounting, book-keeping, and balance-sheets,' says Freddy. "We went from a stone-age approach of paper, mail, and fax machines. Now we are almost completely digital and all of our reports and invoices are at a click of a button." Freddy has been so successful that he even opened a second store in Southern California.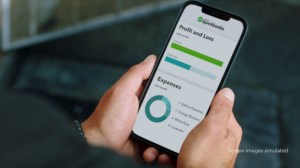 Then the pandemic struck, wreaking havoc on small business owners, employees, and their profit margins. Like so many other businesses, Saffron and Rose went through a period of uncertainty, belt-tightening, and careful budgeting to make it through to the other side. Freddy was able to count on our innovative products and services for both his business and his personal life.
Freddy thanks Credit Karma for turning his personal finances around. "Credit Karma has allowed me to take control of my credit score, and has taught me how to not only maintain an above-average score, but also boost my score by personalized recommendations." Freddy was able to not only see a tangible increase with his credit limit but was then able to make purchases to further invest in his financial growth.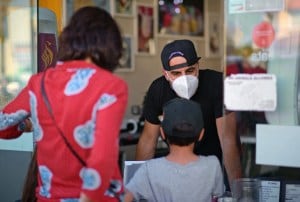 Intuit was there to help throughout it all, and we're still there today as Freddy's business comes roaring back. For many of Intuit's customers, running a small business on top of personal commitments is a high-stakes venture that carries meaning far beyond the bottom line. Yes, there are financial stakes. But there are also human relationships, the livelihoods of employees, and the well-being of employees' families. Some ventures represent deeply personal dreams, or the fruits of years of struggle and sacrifice. In some cases, family legacies hang in the balance.
Freddy wants his grandfather's ice cream to be a world-wide name, representing his family and his culture. We're here to help.
Intuit works for what you work for.
To learn more about how Intuit's products can help you, visit our website at https://www.intuit.com/possibilities/.