Adversity can inspire innovation – and the last two years have certainly been challenging for aspiring entrepreneurs. But there's an opportunity to bring promising new solutions to life to build toward a brighter future together.
At this year's second-annual Intuit Prosperity Accelerator Demo Day, the participating cohort of 7 startups had the chance to pitch their AI-powered solutions that are positioned to overcome financial challenges faced by consumers and small businesses today. It was an action-packed event, where we had the opportunity to be inspired by emerging and seasoned founders alike, including a renowned serial entrepreneur and venture capitalist. David Marquis, Country Manager at Intuit Canada, was joined by Michele Romanow, Dragon's Den VC, and President of Clearco, where they discussed the entrepreneurial journey, problem-solving for the customer, and the power of collaboration. 
Here are 3 pieces of advice for aspiring entrepreneurs:
Even if you don't know the answer, sometimes you just have to dive in
One of the greatest hurdles for early-stage startups is pulling out of the planning stage. "Stop planning and get going!" said Michele, adding "a plan should fit on a post-it note". 
Overplanning leads to stalled success, and entrepreneurs must learn to quickly pivot and embrace change, she said. 
Entrepreneurs also need to accept failure as an integral part of the process, because great innovation comes from a lot of iteration, she added. In the early days of Clearco, Michele remembers "getting over 200 no's from people who said our model will never work. And now, all those people have come back to us after we built an entirely new category of financing". Criticism is key to the development process, but it's important to not get discouraged, keep moving and refining. 
Be continuously scrappy – no job is too big or too small
Starting as an entrepreneur, Michele co-founded Evandale Caviar, a vertically integrated New Brunswick fishery that produced high-end caviar. As Evandale grew, Michele found herself pulled into every aspect of production (along with learning more about fish than she ever thought possible).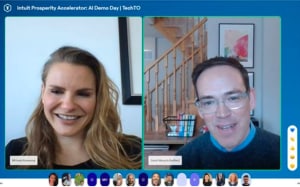 While getting up to speed with the fishing industry was a new challenge, learning to be comfortable with the unknown helped her gain a full picture of her business and ultimately helped it to succeed. While most emerging tech leaders won't find themselves elbow-deep in sturgeon, learning to be scrappy will help you embrace every learning experience, and, when necessary, roll up your sleeves and get things done. 
Be Chief Everything Officer (and know the importance of a solid team)
The tech industry can be especially fierce, even for industry veterans, said David Marquis.  The constant pivots that support rapid growth can make you feel as if you've lost direction, and in the very early stages, it can seem like you're jumping between multiple businesses rather than leading a unified organization. 
Successful startups find ways to navigate this in their early stages. Cultivating a skilled team, who are comfortable with you wearing multiple hats and are ready to jump in with support, can help jumpstart success.
While building a successful business is a long process, just having the confidence to get going is often difficult. The key is to persevere. "Never run your life on embarrassment," said Michele, "My career would've never made sense to anyone. Learn to embrace yourself, have confidence in your vision and the rest will follow".
If you'd like to learn more about the Intuit Prosperity Accelerator: AI program, you can watch the full fireside chat with Michele and David, and see the demos from participating startups.