Most people don't react well to being told what to do—especially when it comes to their finances.
Imagine this is you.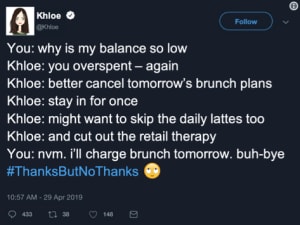 As you can see in this (admittedly dramatic) mock example, we have a consumer that's none too pleased to be bossed around by a judgy AI financial assistant. I'm guessing you wouldn't be either.
That's why researchers with Intuit's Technology Futures group are paying close attention to the human side of things when tackling a thorny issue: motivating people build a financial reserve for a rainy day.
Humanizing technology—the right way
It's far from an academic exercise. Long-term prosperity often depends on your ability to adapt to changing life circumstances—an unexpected medical expense, loss of income, birth of a child—without significantly lowering your standard of living.
Unfortunately, most Americans are ill-prepared for adversity. More than half (58 percent) have saved less than $1,000, and nearly a third (32 percent) have nothing at all in savings. Hardly anyone doubts the need for an emergency fund, but for many, it's just too hard to delay immediate gratification for some hypothetical event down the road.
Experimenting with millennials
That's where behavioral science comes in. Intuit's engineers and scientists are experimenting with ways to help millennials get serious about building their savings accounts, using strategies based on financial and non-financial attributes: for example, income, expenses, insurance coverage, spending habits, biases, life events, values, and lifestyle.
Millennials are a good choice because of the unique challenges they face. Many are burdened with student loan debt and still recovering from income disruptions caused by the 2008 financial crisis. It's evident in how they spend, save and manage their money, according to a study by Merrill Edge.
Intuit's unique approach is based on the concept of resilience. That is, the ability to quickly recover from an unexpected or unusual setback. Our engineers use a combination of a rules-based system and machine learning models, such as a sophisticated income volatility model, to assess an individual's financial situation and gain insights into their personal biases, priorities, and habits.
The result of this analysis is an individualized resilience score. Just as a credit score determines creditworthiness, a resiliency score assesses financial preparedness based on objective criteria, not guesswork. By measuring and analyzing hundreds of financial and behavioral traits, we try to predict how quickly someone can recover from an emergency, and use this knowledge to help improve their financial resilience. Early on, we discovered that what's an emergency for one may not be an emergency for another. So, for the purposes of our research, we looked at a short list of common situations that can come up unexpectedly (job loss, auto repairs, home repairs, extra childcare, etc).
We also developed another useful metric, the consumer's financial mindset. Do they value experiences more than material goods? How do they balance instant versus deferred gratification? This information is a critical element for designing a personalized savings plan that has a reasonable chance of success.
A prototype for tracking the financial health
To deliver this information to the consumer in a convenient and useful way, our team has developed a prototype, which guides users through the planning process using a deep understanding of the psychology of human-machine interactions. It uses the resilience score, along with information gathered from a few simple questions, to develop a personalized plan to save for emergencies.  The goal is to create an engaging and enjoyable user experience while motivating the consumer to change specific behaviors.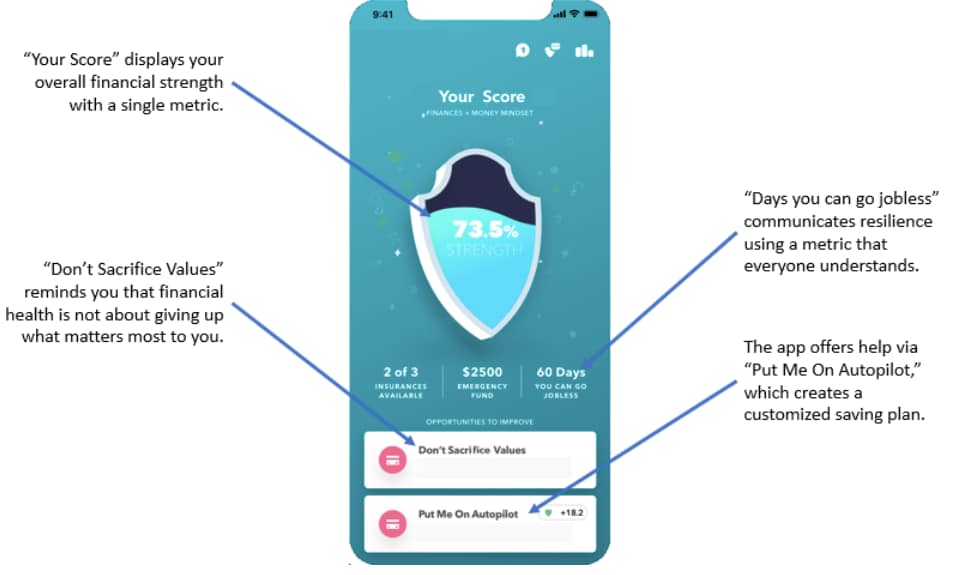 Where are we with this technology?
Our researchers have just wrapped up an alpha pilot program that has yielded additional insights into the money management attitudes, behaviors and habits of a broader base of consumers. Now we're actively looking at how we might apply these learnings in the future to Intuit's flagship personal finance products. Discovering new ways to guide consumers toward smart financial decision-making is core to our mission to power prosperity around the world.