Last week, I participated in the Amazon Web Services (AWS) re:Invent conference as a guest presenter during the AI State of the Union session. It was a wonderful opportunity to share Intuit's vision to power prosperity around the world.
You see, not many of us realize that 44 percent of people cannot come up with $400 for an emergency.1 Or that approximately 50 percent of new businesses fail within the first five years.2
Intuit began its artificial intelligence journey over 10 years ago and continues to use unique financial data, customer-focused innovation and machine learning to lessen the pain of managing finances for 46 million customers worldwide.
Last week, we announced our selection of AWS services for artificial intelligence and machine learning workloads. We also participated in the AWS SageMaker announcement, because using a service such as this will help us accelerate our artificial intelligence initiatives at scale by building and deploying our algorithms on the platform.
For example, we currently have a SageMaker pilot that calculates model features from an event stream using Spark and then uses Amazon SageMaker for model training and hosting.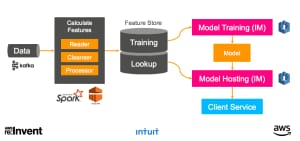 Illustration of how Intuit uses SageMaker for model training and hosting.
This type of capability allows our algorithms to deliver near real-time feedback on key hosted application activities, such as fraud detection. The flexibility of virtualization and auto-scaling for the hosting environment are factors in ensuring we can quickly develop and deploy high-value functions that improve our customers' confidence in their financial actions, decisions and tracking.
If you are a talented data scientist who is interested in using your expertise to create algorithms that benefit millions of consumers and small business owners in meaningful ways, please check out the opportunities we have at Intuit. We'd love to hear from you.
[1] Quarterly report on household debt and credit, Federal Reserve Bank of New York.
2 Office of Advocacy, (2017). Frequently asked questions about small business, U.S. Small Business Administration