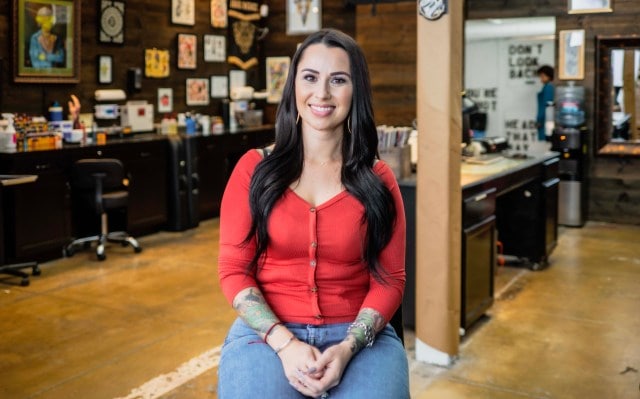 Are you looking to go into business for yourself or start a new business? If the answer is yes, you sound like an aspiring entrepreneur: someone who organizes, manages, and assumes the risks of a business.
We want to help turn your dream into a reality. In honor of Financial Literacy Month, we're highlighting some tips from our Small Business Startup Success course, powered by EVERFI, so that you can find ways to improve your financial well-being as a small business owner. With the confidence education brings, you can build an even brighter financial future. 
Here are 5 tips to help you and your business thrive:
1. Understand how your personal finances impact you and your business
Having the drive to start a business is wonderful, but it's only part of the process. In addition to brand creation and business planning, you'll need to look at your personal finances. Starting a small business requires money, and money often requires loans. This means your financial history can impact your ability to get the capital to launch your business. 
Start by understanding your credit score. While good credit scores make it easier to obtain financing and may qualify you for better terms, it all starts by getting familiar with your score. If needed, you can explore ways to raise your score so that you can help set yourself and your business up for success.
When starting a business, it's essential to open a business bank account that is separate from your personal account in order to maintain accurate records and understand your business' financial health so that you can make informed decisions. When it comes to opening a business account, you have options. Do your research and choose the account that makes the most sense for your business.
2. Know your options to access additional capital
Businesses may seek additional funding at different points in their business journey for a variety of reasons, such as assisting with start-up costs, purchasing new equipment, acquiring inventory, covering cash flow deficits, or even building a credit history. 
If you choose to apply for a business loan, the lender will request information they can use to assess your creditworthiness. Banks and credit unions are the traditional sources for small business loans, but they aren't the only lenders. Other options, like QuickBooks Capital can make it easier for small businesses to access capital to support and grow their business. 
Some entrepreneurs use their personal funds to support their business operations. Remember to use your business bank account if you choose to contribute personal funds to your business. Make your funding selection based on your business' specific needs — you can have more than one one way to get capital. In addition to repaying the amount borrowed, you may also pay interest and fees, and may need to provide collateral. Be sure to factor any regular payments into your budget so you know what to expect when managing your finances.
3. Develop a marketing plan
A business is nothing without a customer base, and attracting customers requires marketing. You'll need to understand your competition and build a plan to sell your products or services.
Determine what your market looks like and identify key statistics and facts that support your claim that the market is ready for your offering. Once you've identified your audience, it's time to learn more about them and understand their pain points so you can determine how your product or service may be able to help. Try setting up a focus group or a customer follow-me-home to observe their behaviors in order to build empathy and develop insights so that you can be smarter with your marketing. From email marketing and digital ads, to social media and more, you'll be able to start building a relationship with your customers as your business grows.
4. Be aware of important tax considerations
There are specific tax considerations that you may not be aware of when going into business for yourself. Self-employed individuals generally must pay self-employment tax as well as income tax. As a self-employed individual, generally you are required to file an annual return and pay estimated tax quarterly.
If you have previously worked as an employee for another business, you may be used to your employer withholding the employee portion of your Federal income taxes, specifically the Medicare and Social Security taxes from your pay. If you're self-employed, it's your responsibility to pay these taxes instead.
When figuring how much of your income is withheld with the self-employment tax, the IRS allows you to first deduct all of your related business expenses. Not only is tracking your expenses critical to running your business, it may save you money when it's time to pay taxes. 
5. Plan for retirement
It can be easy to prioritize the health of your business, but don't forget to plan for your own future as well. Be sure to include additional expenses such as retirement, health insurance, and emergency savings plans when developing both your personal and business budget. 
As a small business owner, you may not be eligible for an employer sponsored 401(k) plan. Instead, consider an individual retirement account (IRA), a simplified employee pension IRA, or a solo 401(k) plan. No matter how old you are or when you expect to retire, it's never too late to start saving.
Creating a brighter future for small business owners, students, consumers, and communities
At Intuit, everything we do starts with the belief that people deserve the opportunity to prosper. Serving millions of customers worldwide with TurboTax, QuickBooks, Mint, Credit Karma, and Mailchimp, we'll never stop working to find new, innovative ways to make that possible. 
Small business owners, particularly those just getting their start, are often pursuing their passion in search of a brighter future. With access to the resources and tools that build confidence in running and growing their business, they can set themselves on the path to achieve long term success.
We also know that setting up people for success starts early in life. As a key part of our corporate responsibility focus, we're helping students develop financial literacy and entrepreneurship skills through our job readiness program, gaining the skills needed to succeed in their future jobs. We are committed to the goal of better preparing 5 million students for jobs by the year 2025, and we're well on our way with more than 510,000 students and educators having already gone through our program.
Whether it's supporting small business owners, students, and consumers, one of our core company goals is to make a difference in the communities we serve, reflecting our unwavering commitment to helping people prosper today and in the future.