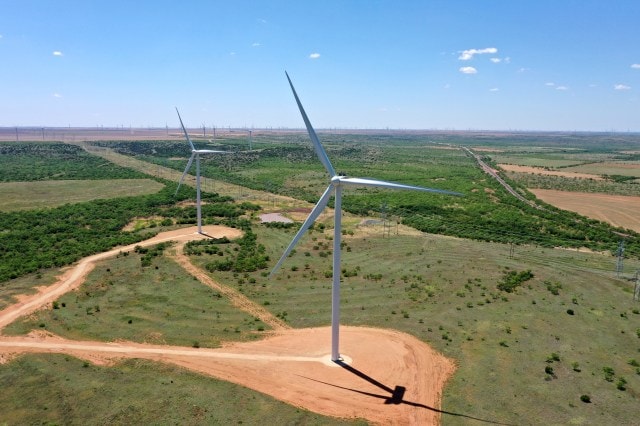 Fighting climate change has never been more important. At Intuit, maker of TurboTax, QuickBooks, and Mint, we want to ensure that we leave the world a better place than we found it — and we're committed to doing everything we can to help protect our planet.
In 2015, Intuit became carbon neutral by investing in impactful carbon-offset projects but we wanted to do more. We set new bold sustainability goals to challenge ourselves, including a goal to use 100% renewable energy by 2030.
We're excited to announce that we've hit our renewable electricity goal a full decade ahead of schedule.
To do so, the team had to explore innovative new solutions. Typically, aggregated purchase power agreements are not accessible to companies like Intuit, who need comparably less electricity and cannot afford to purchase an entire wind farm. We partnered with Sustainability Roundtable and Clearway Energy Group, where we had the opportunity to join Lowes, EcoLab, and Brown University, so that together, we could undertake a wind farm power agreement. Located in Texas, power from this wind farm will help offset both our electricity and our net emissions with enough wind generation capacity to meet the annual electricity demand of 3,300 average U.S. homes.
Now that we've met our renewable electricity goal, our team is fully dedicated to an even bigger goal — our 50 times by 2030 climate-positive goal — that we declared at the Climate Action Summit, organized by the United Nations in September 2019. To calculate our climate positive impact, we used our 2018 carbon footprint metric as a baseline (40,000 metric tonnes) and are committed to reducing carbon emissions by 50 times greater than our 2018 carbon footprint (2 million metric tonnes) by 2030. 
"If we're going to solve climate change," said Lara Balazs, Intuit's Chief Marketing Officer and General Manager, Strategic Partner Group, "we must work together to push the boundaries of what is possible." That's why we're making a commitment to surpassing carbon neutrality to positively impact the planet, and communities around the world who are dealing with the adverse effects of climate change.  
We're focusing on sustainability initiatives and solutions outside our company operations, including key partners, communities, employees and customers. Throughout the next decade, we'll be looking to expand our offerings to drive significant impact in reducing greenhouse gas emissions and avert the worst impacts of climate change. It's only when we all do our part and come together can we help our planet.