It's going to require a commitment from all of us to successfully tackle climate change. At Intuit, not only have we been carbon neutral since 2015 but we want to empower our employees, customers and communities to join us in tackling climate action. 
Today's youth are the next generation and as part of our job readiness initiative, we want to help students develop the skills and mindset they need to enter the workforce and contribute to their communities — including helping the planet and changing our world for the better.
Race for Climate Action
Solving real-world problems of any kind requires creative and critical thinking. Using our Design for Delight program, we help students leverage tools to identify big unsolved problems, gain customer empathy, run quick experiments with actual customers, test assumptions, pivot if needed, and much more.
To help tackle the climate crisis, we teamed up with global education nonprofit Enactus to design and support the Race for Climate Action, an innovative student competition for students from around the world to develop solutions for their local communities to reduce greenhouse gas emissions while creating jobs.
Almost 2,000 students from more than 26 countries developed projects ranging from an early-stage idea to scaling a successful social enterprise in order to address the climate crisis. Whether projects addressed deforestation, creating eco-friendly fuels, solar energy, or reducing crop residue burning, collectively they had a massive impact. Since kick-off, 175 projects were submitted, reducing a combined total of 25,000 metric tonnes of carbon as of July 2021.
Year One of the Race for Climate Action culminated at Enactus World Cup, 2021, where three finalists were selected, each receiving additional funding to help amplify and scale their projects over the next year.
Here's a look at three projects that are making a difference to tackle the global climate crisis:
Project Arth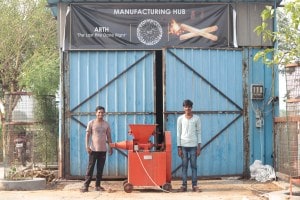 The team, created and implemented by Enactus Indian Institute of Technology, Delhi, India, tackled several major contributors to climate change including deforestation, pollution and waste while providing economic incentives to local beneficiaries.
In India, 50M trees are burned during cremations each year resulting in 8M tons of greenhouse gas emissions. 2.4 million tons of cow-dung is wasted annually, contributing to high emissions and pollution of their holy rivers. With the daunting pollution in India, the team was determined to identify innovative solutions and met with crematoriums, priests and cow shelters to better understand their processes and traditions.
After collaborating, they found that cow-dung is acceptable for cremations and created a process to turn cow-dung into eco-friendly logs, thereby preventing deforestation.
Project results: 
Prevented 1,300 tons of CO2 emissions and 2,600 trees from being harvested.

Created 14 entrepreneurs.

Employed 69 people with an average monthly income of $200.

Increased cow shelters monthly income by $700.

Set up nine manufacturing hubs in seven states.

Generated $94,000 in revenue between three cow-dung products.
Project  Vriddhi

The team, made up of students from Hans Raj College at the University of Delhi, India, wanted to help mitigate the prevalent issue of crop residue burning in India, causing 46% of the pollution in Delhi, India, the world's most polluted capital. 
Nine of the 10 most polluted cities in the world by the PM-Scale are located in India, but that did not hold the team back. It encouraged them to strive for cleaner air and a brighter tomorrow. Redefining traditional practices and challenging societal norms, the team implemented four business models that allow them to convert agro-waste: mushroom cultivation, handicrafts, washroom creation and the creation of cleaner stoves.
Project results:
Prevented 1,400 tons of CO2 emissions and 187,266 kg of ash.

Utilized 941 tons of agro-waste.

Positively impacted 90 female entrepreneurs, one washroom manager, 275 farmers and 22 villages.

Held 66 community sessions.

Generated $614,208 in revenue.
Project Amal

Amal, meaning implementation and energy, aims to solve the grave crisis of particulate emission via stubble burning by using agro-waste to make smokeless biochar briquettes, fortifying char powder and affordable construction material, thus taking a step forward towards being carbon negative. 
The team is made up of students from the Shri Ram College of Commerce in India. To understand the issue, the team met with farmers in rural communities and discovered farmers primarily burn stubble due to the lack of affordable alternatives. Realizing they could minimize the issue of stubble burning by channeling it into several value chains, they collaborated with Appropriate Rural Technology Institute to create a low-emissions pyrolysis reactor which they could use to make smokeless biochar briquettes.
Project results:
Prevented 460,000 kgs of carbon emissions.

Processed 222,500 kgs of stubble waste.

Empowered 55 farmers.

Created 21 jobs.

Increased farmers' incomes by 150%
Our enduring commitment to students
We're passionate about using our unique resources and assets to prepare people for jobs through the development of critical thinking, communication, teamwork, and leadership. Whether it's addressing climate change, or teaching personal finance skills, our job readiness program helps students develop the entrepreneurial mindset needed to succeed. Through direct and partner-driven programs, Intuit offers courses like design thinking known as Design for Delight (D4D), personal finance simulations, entrepreneurship challenges and educator training to teach the skills students need to build a successful career. 
We are committed to the goal of better preparing 5 million students for jobs by the year 2025, and we're well on our way with more than 510,000 students and educators having already gone through our program.
It's up to all of us to tackle climate change and create a better future. Together, we can make a difference and help protect the planet for generations to come.