This year, Intuit India launched the Girl Child Project in partnership with the Concern India Foundation, a nonprofit organization that partners with corporations across India to create change. As part of Intuit Rise—a program empowering society through various initiatives for women, youth, and their environment—Intuit India will sponsor the education of a girl for every woman that joins the company.
This program aims to sponsor the education of hundreds of girls across the country through free education, after school tutoring, career counseling, and life skill lessons. Girls in the program will also receive the opportunity to connect with female engineers at Intuit to learn more about being a woman in tech!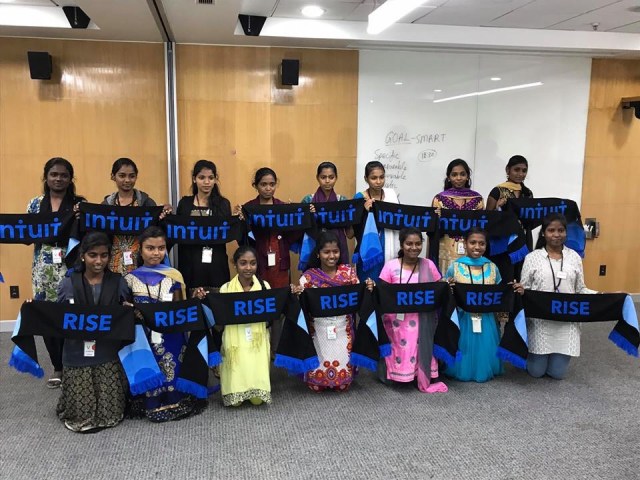 The man behind the project, Zeeshan Ramlan, shares his inspiration below.
The inspiration for the Girl Child Project came during a difficult time in my life. My grandmother had passed away, and the entire family was saddened by the sudden loss. At the same time, I had to create and present an Engagement, Diversity, and CSR plan for over 1500+ Intuit employees.

While I was able to take some time off to mourn my loss, once I got back to work, my grandma's  memory was still fresh in my mind. My grandmother was married at the age of eight, and had ten children. Her husband passed away at an early age, leaving her to raise her children on her own.

I couldn't stop thinking of the hundreds of girls who are still deprived of education due to deep rooted gender norms. While on one side we focus on building women leaders within the organization, there is still much work to be done outside of Intuit. Over 48% of girls in rural India are married before the age of 18, and India is ranked 108 in the global gender index. If we didn't help solve for this pressing issue, we would be creating a vacuum of future women leaders in the organization.

This led to the birth of a unique idea where Intuit would sponsor the education of a girl child in rural areas of India. Through this program, we could not only help girl children obtain an education, but inspire hundreds of women to join the workforce.

When I first explained this idea to my wife, she smiled and said, 'it's a wonderful idea, but would your new company really let you implement such a big project?' Little did she know, Intuit prides itself in encouraging innovation and creativity."

So we launched a first-of-its-kind program that aims at sponsoring the education of hundreds of girl children from informal settlement, orphanages, and underprivileged areas. Already, Intuit has hosted a first group of 15 girl children. They were given day-long orientation on how to deal with exam stress and participated in various team building activities with our employees.

We asked the little ones about their future aspirations, and we were awestruck with the response from one of the girls: 'I want to become a teacher, and teach poor students in this country who don't have access to free education.'

I would like to thank my late grandmother for inspiring me to create this project, without her strength and perseverance, I would not be where I am today. And thank you to Intuit for continuing to inspire employees to believe anything is possible.