Fale Malepeai broke the mold. Growing up in the Bay Area, no one in his world shared the dream that he had. Thanks to determination, grit, and hard work, he's on his way to creating a future that he's proud of. 
Growing up, Fale knew what it was like to go to bed hungry and without a blanket. He loved his parents and large Polynesian family, but they made the rules of life crystal clear: You went to school, then you got a job as a security guard or at the airport. Dreams were for other people.
Except that Fale had a dream.
Ever since he was a child, he wanted to do four things: to help the youth, help the elderly, help people experiencing homelessness, and help the community. It wasn't a clear-cut dream and there was no road map of how to get there. It was a sense of purpose that burned within him.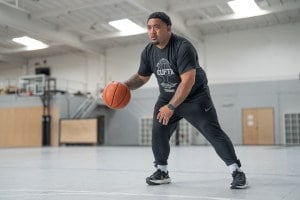 Meanwhile, he became good at basketball. Very good. Growing up, going to the basketball court was his safe place. It provided structure when nothing else did. It was where he could be himself. If he was having a bad day, shooting hoops would help get his mind straight. "Basketball is literally like therapy to me," Fale says. "It was a place where I could go and work and build, and every day was an opportunity for myself to get better at it."
Hard times—and a break
Fale's life took an unexpected turn. When Fale's family lost their home, they moved into low-income housing in a tough neighborhood. He put aside any thoughts of college and threw himself into work to help support his family. He took jobs as a security guard and washed cars. It was humbling work for someone known in the community for his basketball prowess. And although it felt good to make money, something inside him wanted more—only now it was a different kind of desire. Fale had a passion to build a life filled with purpose.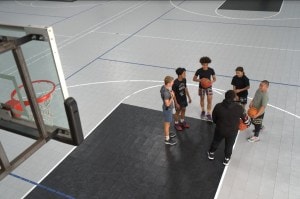 Then Fale got a break that changed the trajectory of his life. He was offered a job as athletics director at the Boys and Girls Club he had attended as a youth. He became a basketball trainer—with a difference. In addition to helping kids of all ages learn ball skills on the court, he helped them with life skills off the court.
In one of those remarkable turns of fate, the job also fulfilled the four goals he'd had since childhood. Through it, he found himself helping not just the youth, but also the elderly, people experiencing homelessness, and the larger community.
In addition to training kids of all ages, Fale continues to expand his skills as a coach, supporting professional basketball players, including those from the National Basketball Association (NBA). One of his trainees recently was admitted to the University of Washington. Another signed a contract with the NBA's Golden State Warriors.
Getting closer to his dreams and financial empowerment
For Fale, prosperity means having a positive impact on others' lives. But as he worked to increase that impact by teaching basketball skills to a wider circle of people, he found he lacked the financial skills he needed to succeed.
The world of credit scores, saving money, and doing taxes were foreign to him. Growing up, no one had taught him these skills. Fale began learning from experts, and colleagues and through his use of Credit Karma. When he traveled to other cities to teach basketball clinics, he started logging his miles so he could write them off as a business expense. If he discussed business over a meal, he learned to keep the receipt. He tracked his credit score and paid his credit cards on time.
"There were times where I would struggle and my credit score would dip, and then it was just like, 'Okay, well, how do I pick myself back up?'" he recalls. "I'm still trying to learn everything as far as credit and the value of credit. But it's been a growing process for sure."
He pushed himself to continue learning. With greater financial literacy came greater empowerment. Instead of owing money after taxes, he got a refund.
Continuing his journey to create a life filled with fulfillment
These days, Fale has a head full of even bigger dreams. He wants to use his platform to have a greater impact beyond basketball—through doing toy drives for less fortunate kids, and through building homes and supplying clean water to the needy in other countries.
His greatest dream of all? To have his own gym—a place that can serve as a safe haven for others, just like the basketball court was his haven growing up.
As he works toward this dream, he's facing a whole new set of learnings—about everything from bathrooms to fire codes. And he's having to up his financial stability and literacy. In his moments of self-doubt, he tells himself to always remember "his why"—which he sees in the faces of the kids he trains and in their parents who believe in him. And he holds a vision of his new gym. "You may have had a rough day," he says, "but we're going to make sure that you leave with a smile."
Supporting Fale to help him reach his dreams
Building deep customer empathy is part of our company culture. Each employee is expected to think like an entrepreneur, and it's everyone's job to create, to invent, and to look for new and better ways to improve our customers' lives. We do that by getting to know our customers and understanding their pain points so that we can create bold new ideas to make their lives easier.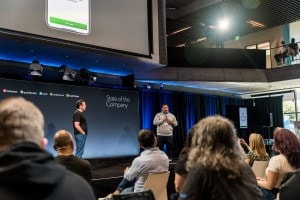 During our recent company-wide event, Fale joined us alongside our 14,000+ employees around the world, as we learned more about not only his story but how he uses our products to reach his personal finance goals and grow his business. 
We also had the chance to share a special surprise with Fale. As a thank you for being an inspiration to all of us at Intuit, we added $10,000 to his Credit Karma Money account to help him build his gym. "It's stories like yours that we live for, as we look to make an impact for those that we serve." shared our CEO, Sasan Goodarzi. Customers like Fale drive us as we continue to make advances in technology that give everyone the opportunity to prosper.