Step inside the vibrant San Jose coffee shop that is Nirvana Soul and you'll see a mural sprinkled with phrases like "Black owned" and "follow your dreams." The words have special meaning to sister co-founders Be'Anka Ashaolu and Jeronica Macey. Perhaps especially resonant, given the events of the past two years, is this declaration: "We can do hard things." 
Sisters, co-founders, and @QuickBooks customers Be'Anka Ashaolu and Jeronica Macey opened @NirvanaSoulSJ during the pandemic, determined to make their dream a reality.

Now with three locations, including one on the Intuit campus, they offer up their secrets to success.

— Intuit (@Intuit) August 29, 2022
Be'Anka and Jeronica have proven they can do hard things many times since they launched their coffee shop in September 2020. After a long delay, their small-business loan had just gone through. They were committed to launching, even though it was the middle of the COVID-19 pandemic. "We just thought this would pass, right?" says Be'Anka, who serves as chief marketing officer for the business while holding down a day job as a marketing VP at a software company. "No one knew how bad it was."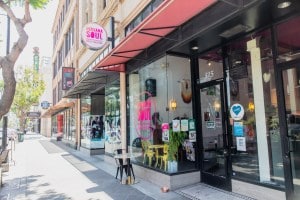 Today, Nirvana Soul is going strong, including hiring more staff and baristas to support their growing business. In April, it opened a second coffee shop in Cupertino and it opened a third location for Intuit employees at Intuit's Mountain View campus. The San Jose location hosts corporate events and gigs for local artists and other members of the community. 
Secrets to success
Among the secrets to the team's success is applying the lessons they learned pre-launch from other coffee shop owners. They also have gotten strong support from the community they love and serve. And they're committed to offering customers a unique, high-touch experience that gives them a break from the hustle of Silicon Valley.
"It's been a whirlwind," Be'Anka says. "There's been a lot of learning, a lot of messing up, but we were ready for that no matter what. The pandemic was just another layer to that."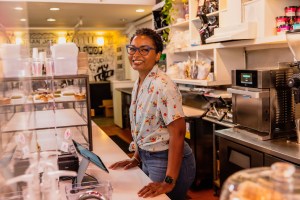 As a global technology platform, Intuit helps customers like Be'Anka and Jeronica overcome their most important financial challenges. Our innovative products and services improve our customers' lives, opening expanded possibilities. We're there for our customers in their important life moments—whether you're launching your dream business, paying down your college loan, or getting the invoices out on time so that you get paid.
Nirvana Soul has always been about more than growing the bottom line. The company's mission is to bring people together through the power of coffee and tea. Be'Anka and Jeronica also want to inspire other would-be entrepreneurs—especially Black-owned businesses—to reach for their dreams. And they want to help people expand to fulfill what they see as yet-to-be realized potential.
Taking care of business
To reach their own dreams for Nirvana Soul, Be'Anka and Jeronica rely on their chief financial officer and an in-house accountant who uses QuickBooks to keep the company's finances in order. It's a crucial part of running the business because bookkeeping isn't the sisters' forte.
"Jeronica just wants to talk to customers, and I am basically online or at my other job," Be'Anka says. "And so it would be super easy for us to lose sight of that, but we know we can't. It's probably the most important thing to keep track of."
Using QuickBooks, their accountant can easily show them snapshots of revenue and expenses, forecasts for the coming quarter, daily sales, and so on. Be'Anka can also keep up to date via a smartphone app. "We didn't have to be numbers people necessarily, but we did need a numbers person," she says.
Running a small business like Nirvana Soul carries meaning far beyond turning a profit. In addition to the financial stakes, there are human relationships and family considerations, as well as the livelihoods of employees and the impact on the larger community. 
Be'Anka wants Nirvana Soul to eventually expand to 20 coffee shops in the San Jose area so they can inspire even more people to dream bigger. We're here to help every step of the way and can't wait to see what their future holds.