When Kelvin Crosby got back on the pottery wheel for the first time in four years, it was to heal.
Kelvin has Usher Syndrome II, a rare genetic disorder that affects your hearing and vision. He was born hard of hearing and his eyesight has gradually deteriorated throughout his life. As a teen, he lost his night vision, was later declared legally blind, and ultimately lost all clarity in 2020.
"I could no longer see my wife's face," Kelvin told the Intuit team. He describes his current vision as looking through a straw covered in wax paper.

On top of losing his sight, Kelvin's daily life was affected further by the pandemic. At the start of 2020, he was developing Smart Guider™, a tech company focused on empowering people who are blind to travel more safely, especially at night. Like many business owners, he lost his funding and had to figure out what to do next.
While experiencing some of the most significant pain of his life, Kelvin sought comfort in a familiar hobby: pottery. Only now, he had to use a potter's wheel completely by feel. 
"I literally was able to start seeing through my own hands. To be able to mold the piece on a whole nother level." 
With the demands of running a business leaving less time for creative outlets, this was the first time he had even touched clay in over 4 years. Unknown to Kelvin, his friends filmed the moment and DeafBlind Potter was born.
A vision of success 
The first DeafBlind Potter video posted to TikTok received 100,000 views and 10,000 followers. Within days, his videos had surpassed 1 million views, with 50,000 followers wanting to hear and see more. 
While some small business owners fantasize about their viral moment, Kelvin's vision for this business went beyond a trending post. Views have no value if you don't have a plan and a product to sustain them—luckily, he had both. 
Kelvin uses his platform to show how someone with low-vision and hearing loss navigates the world. His videos are entertaining, inspiring, and informative.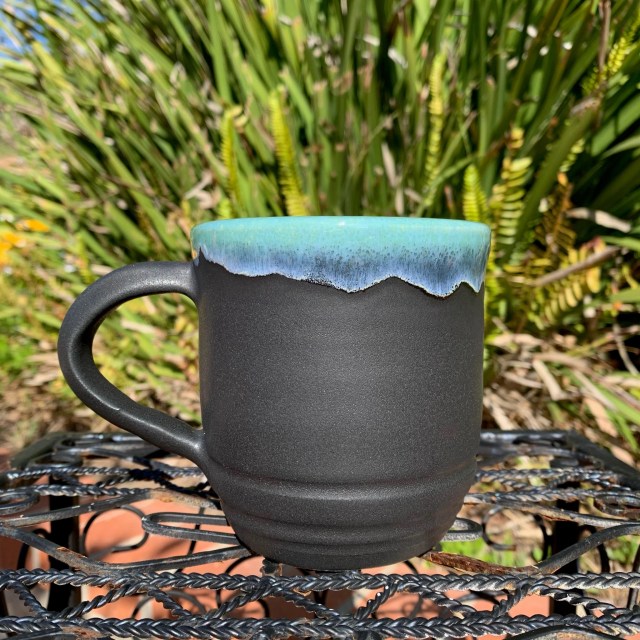 Still, with all the attention, you can't forget about the pottery. His work is personal and beautiful as he uses each piece of clay as a mechanism in his own healing journey. He views his pottery as a way to embrace his pain and share the joy he's found, "playing with mud." 
His passion for pottery is obvious in his work, but his passion for life outshines everything. In every interaction, you'll see Kelvin smiling and spreading the message to find joy in your pain and live beyond the labels put on you. 
When asked the three biggest contributors to his success as a small business owner, Kelvin responded, "My blindness, my deafness, and my joy." By rising to the challenges posed to him, Kelvin is now able to finance his other ventures completely through his pottery. 
Innovating accessibility with Aira 
While many people have been moved by Kelvin's story, many more can benefit from the awareness he drives to low-vision, inclusive business practices. Through the Intuit Small Business Owners offer, Kelvin can use sponsored minutes from Aira to stay hands-on with the daily operations of his business. This can include building his website, replying to comments, or setting up a camera for a video chat.
Aira is a service that provides visual interpreters for people with vision impairments. Together, we've created this first-of-its-kind program to empower blind and low-vision entrepreneurs. Within the Aira app, any blind or low-vision small business owner or QuickBooks customer can click a button and be instantly connected to a remote set of eyes. From there they can obtain the necessary support to access missing virtual information and perform an unlimited series of tasks.
Our ongoing commitment to accessibility
With a strong commitment to ensuring our products are fair and inclusive, employees across Intuit are working together to create equity across the company. This spans from our products and services to our marketing and communications activities, where we've created principles to make sure the diversity of our content reflects our unique customers. 
Since 2020, Intuit's Accessibility and Inclusive Design team has transformed how we build products, support customers, and develop an inclusive workplace. 
Our Accessibility Champion program grew to include more than 1,000 champions and 24 product leaders. They continued the important work of embedding accessibility into our design requirements and code reviews, driving more than 550 product improvements last year. These champions also shared their knowledge externally, teaching workshops, providing expertise at events, and volunteering with nearly 40 organizations. 
Just like Kelvin, we want all small businesses to have the opportunity to find joy in what they do. Meanwhile, we can continue to support you in your journey to prosperity. 
Kelvin, a QuickBooks customer, will be featured in our Prosperity Pop-Up on May 20.