At Intuit, we empower teams to drive end-to-end outcomes and work autonomously. Our teams engage in all aspects of the engineering lifecycle, including experimentation and innovation to maintenance and tech hygiene. Our goal is to create a friction-free, global work environment where top tech talent can own their growth and embrace bigger charters and use data-driven decision-making to drive the best possible customer outcomes and experience.
Global Engineering Days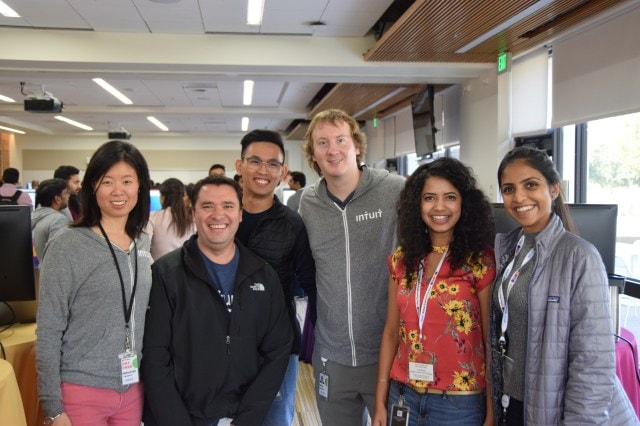 What are Global Engineering Days?
Global Engineering Days is a time for technologists. It's a chance to focus solely on areas of passion – a bug they are eager to fix, a feature they've wanted to add, a tool we need to integrate, a flow that needs fixing. It's not a hackathon. It is an opportunity for us to hone in on our customer obsession, unleash our "inner engineers" and write "beautiful code", the code that dream's are made of. It's an opportunity to use Intuit standards like Modern SaaS Platform for service development, UX Fabric for front end development and principles of Open Source and Contribution for all, and we'll get ample help using these. It's also a time to work with our co-workers and connect together as one global community. Global Engineering Days is an opportunity for technologists to use our voice and feel empowered to lead, contribute and solve big customer problems, both during this event and when we return to our daily work.
And it's not just about "coding it" – we also want to "ship it"! There are extra incentives for those who get their code into production during Engineering Days and shortly thereafter.
Technologists are welcome to work on anything they want for GED: "choose your own adventure."
What makes Global Engineering Days different from our daily work?
Our Intuit technologists, get to decide what they will work on. During Engineering Days, no one tells them what to work on. It's a time outside the race of scrum where they are free to work on that special passion project, something fun, something that might not normally be a priority.
Examples of things teams might work on are…
Addressing tech hygiene (tech debt) that will help the quality of their code
Automating mundane tasks (like creating a service that updates email distribution lists with the latest names)
Building new functionalities (like adding a new upsell in a product)
Creating developer tools to help make their lives easier and more fun (like Testeasy)
Why Global Engineering Days?
Global Engineering Days is designed to foster autonomy, mastery and purpose in our engineering community. The event encourages autonomy since, as technologists, they are free to take action and decide what important problems to solve. It encourages mastery because it provides time to dedicate to the craft and learn by doing. It encourages purpose by creating a space for engineers and data scientists to lead, and work on the problems that matter to our customers, internal or external. To learn more about autonomy, mastery and purpose, check out this TEDTalk by Dan Pink.
Global Engineering Days creates time and space for technologists to write code, together, across sites, teams and boundary lines. Intuit has declared that we want to be a world-class tech company. To achieve this, all our technologists need time to create, dream, lead, learn and code. In the busy day-to-day, these important ideas can fall by the wayside. Global Engineering Days provides the time to focus on these goals, alongside customer problems and the details that make up Intuit's Big Bets.
What is TechCon?
TechCon is an internal Intuit event for technologists, run by technologists. It's a day dedicated to giving our Intuit tech community time to learn, share, inspire, and become inspired together. Like the best conference experiences, TechCon will include engaging speakers, content that can't be learned elsewhere, and time to connect with talented colleagues. It's a global event, with times and activities designed for different sites.
The 2019 TechCon theme was Inspire. What inspires us? Great leaders? New ideas? A chance to explore the unknown? At Intuit, we're inspired by the chance to power prosperity for our customers; for the small business owners following their dreams, for the taxpaying families striving and saving. While, at TechCon, we'll be focusing a lot on the tech that inspires us, customer obsession is at the heart of it all.
Why TechCon?
TechCon and Global Engineering Days, the two Tech Culture Anchor Events, are about getting everyone together as a One Intuit Tech Community and getting energized to achieve our Big Bets, notably Big Bet One which challenges us to "Revolutionize Speed to Benefit" through Data and AI, two topics that are prominently featured in numerous TechCon sessions, and the Tech Bets that ladder up to them. The four tracks, Data/AI, Mobile, Cloud Computing and Future Trends align well with our declared Tech Bets and are curated by our top experts and feature exciting talks. This agenda is crowdsourced with over 60 topic submissions receiving over 1600 votes and includes external keynotes and many internal speakers.
TechCon is a reimagining of a popular engineering event of the early 2000s, Tech Forum. TechCon both takes the event back to its grassroots origins and updates it for our current era.