History of Pride
It's been more than 50 years since the Stonewall Riots, which took place on June 28, 1969. The Stonewall Inn, located in Greenwich Village, a neighbor of Manhattan, NY, was a gathering place for many in the LGBTQ+ community and was the target of multiple police raids, for no other reason other than the fact that its patrons were part of an oppressed, unaccepted community. In the early hours of that morning, that narrative changed when the patrons decided to stand up for their right to be out in their community without the fear of being arrested. This revolution ignited a spark filled with bravery, heroism, and determination as our communities' march towards equality was born.
Pride is an annual global celebration, where the LGBTQ+ community, their family and friends, their allies and peers, can come together. It allows our community the opportunity to congregate, celebrate, remember, reflect, love and live. It is a time where a hug, a hand hold, or a kiss, can be shared without the fear of retaliation, judgement, or violence. It's a time when we are able to see ourselves in others, without having to look for them. Pride is diversity, inclusion, and belonging, melodiously resonating, and lifting us up in community in any country, state or region, city or town in which it is recognized and celebrated. For our community who wake up everyday to the less than favorable headlines, Pride is more than just "a parade".
Intuit's Pride Network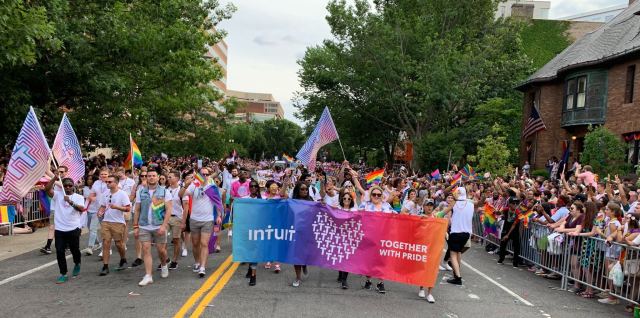 The Intuit Pride Network is one of the flagship employee resource groups, which was a founding member of Intuit's Diversity Council roughly ten years ago. The network has more than 300 members and counting, and there are 10 active chapters across our Intuit sites globally.
The Pride Network is also an important part of the Intuit culture and helps to support a high performance organization that values equality and inspires all to contribute to powering prosperity around the world. 
Our sites around the world will be participating in remote festivities throughout World Pride Month, but many sites will be connecting with their community partners to volunteer, or support them during Intuit's annual Week of Service, where employees around the global focus on efforts to give back to the communities where we live and work.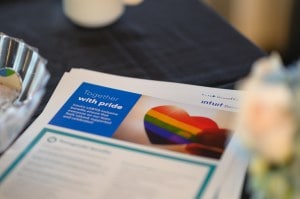 Some will be celebrating accomplishments, like the Domestic Partnership Benefits recognition that Bangalore fought hard for, and the revival of their Safe Space Workplace initiative. Many will be driving education and awareness, fundraising, and hosting events that will benefit community organizations such as their local food bank, or national organizations that support LGBTQ+ initiatives like the GenderCool Project.
Supporting our LGBTQ+ employees and creating an inclusive work environment
We're proud to be an industry leader when it comes to diversity, inclusion and belonging. From our LGBTQ+ inclusive employee benefits, leading inclusively training for leaders and employees, ways for employees to get more involved in furthering diversity through data and dedicated resources for our Pride community, we believe that all employees should be able to live their authentic lives, bringing their whole selves with them whenever they go.
Our ongoing efforts have earned Intuit global recognition as a leader in diversity and inclusion, including:
Human Rights Campaign Corporate Equality Index 2021
Human Rights Campaign Best Places to Work for LGBTQ Equality 2021
Inc. 2021 Best Workplaces
Bloomberg Gender-Equality Index (GEI) 2021
Forbes Best Workplaces for Diversity
And while we're proud of our legacy, our work is far from done. We believe innovation thrives in a workplace that includes employees with a wide range of life experiences and a supportive culture that lets great ideas rise to the top. We will continue to work until we reach parity. We don't yet fully mirror our 50 million customers and we will continue to focus on achieving gender equality in our workplace and increasing underrepresented minorities to reflect the customers we serve.
++++
Are you interested in making a giant impact with your next career move? At Intuit, we help power prosperity for approximately 50 million people while supporting our employees to do the best work of their lives.
Be inspired by a culture that supports innovation where passionate people help make Intuit a Fortune "Best Place to Work" year after year.