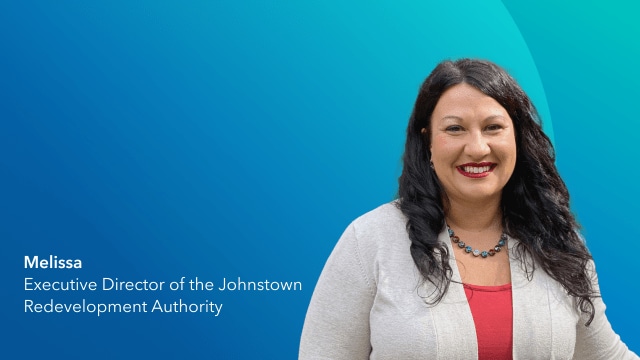 It takes a special kind of person to see the potential in a struggling community, then move to that place with the goal of making things better for the next generation. Melissa is one of those people. Born and raised in Johnstown, Pennsylvania, she left the area for a few years after college, then chose to return to start a career in local government.
The city faces major challenges. When its largest employer, Bethlehem Steel, shut its doors, the population plummeted from 70,000 to about 20,000, draining away opportunities, and leaving empty properties and urban blight in its wake.
As Executive Director of the Johnstown Redevelopment Authority, Melissa is passionate about turning these challenges into opportunities. Her positive attitude is contagious, attracting others in the community to help with the cause.
"We always say that there's no red tape that we can't cut through," says the mother of two.
It also takes a special kind of company to see the potential in a place like Johnstown, and to invest in growing that community and in job creation. Melissa sees Intuit as one such company. Together with Concentrix, a partner in our Prosperity Hub program, we're helping to transform Johnstown.
Started in 2016, our Prosperity Hub program helps communities in need by creating jobs, preparing people for jobs of the future, and equipping entrepreneurs to start and build successful businesses. As of last fall, the program had generated 2,300 jobs and $123 million of annual economic contribution to communities in need.
Prosperity Hub communities partner with Intuit to create customer success jobs, small business success centers and educational partnerships that span the United States, Canada and Britain. Our partners, including Sykes Enterprises, Concentrix, Alorica and Sitel, support us to help create well-paying jobs that help assist Intuit customers. Customer success agents help customers get the most out of Intuit's products and services. About one-third of the jobs are permanently virtual and designed for people like those in military communities, who must often relocate, and people with varying abilities.
Melissa says Intuit's investment in the community is contagious, too. It helps entrepreneurs and others see what she calls "the big picture," and makes them more willing to take risks by launching businesses in the community — like the Mexican restaurant and the artisanal bakery that first started out as vendor booths in the city's farmer's market.
Intuit and Concentrix also hold tax seminars for the community, bringing professional expertise and a welcoming atmosphere to all who want them. Using the same model, the city has engaged local colleges and high schools to help with capital improvement and other projects.
"To know that a company such as Intuit believes in our city gives you a level of confidence," Melissa says. "While you're creating the jobs, you're creating hope for the community."