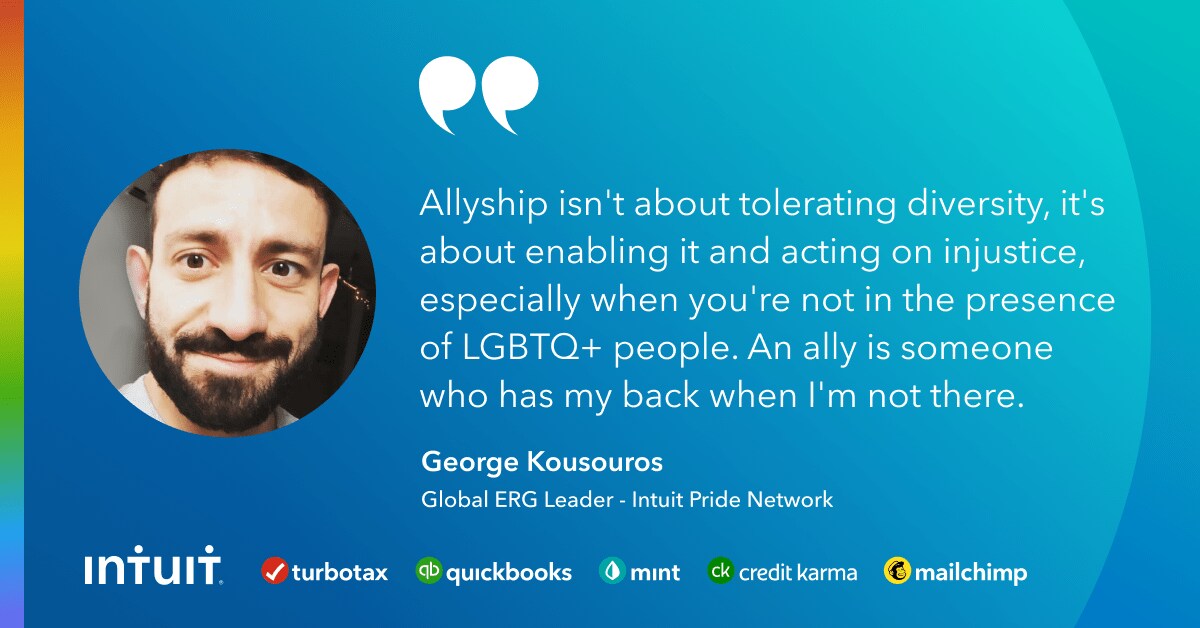 Celebrating diversity, equity, and inclusion in the workplace helps build awareness of different cultures, identify unconscious biases, and start important conversations to drive meaningful change. One way to do that is through employee resource groups (ERGs), as they encourage connection, empathy, and trust between employees and also extend to customers. These employee-led networks formed from commonalities like ethnicity, gender, sexuality or shared interests, can lay the foundation for a culture of diversity and inclusion. 
We're excited to highlight George Kousouros, global ERG leader of the Pride Network, and the work he is doing to build a more inclusive culture for our entire organization.
1. Tell us a little bit about yourself.
I live in Essex, United Kingdom, with my husband Cris, our 2 children and our 2 dogs. I was born in North London to Greek-Cypriot parents and emigrated to Cyprus when I was 8 years old. At 20 I moved back to the UK to study at university and stayed. I have been working at Intuit for 2.5 years in the Small Business and Self-Employed Group, where I lead Learning, Development, and Quality across our International Customer Success business. 
In all honesty, I'd never heard of Intuit before I started working here. Once I started doing my research, I felt drawn to the mission, the values, and the general sense of purpose. From my very first interview, through my onboarding, I saw Intuit's values come alive in the people I met. 
2. If you had to share with a new employee or community member about Intuit, what would you say stands out most for you about working here?
Our recruitment process is designed so that when people start we're not looking for them to prove themselves, we just want them to enjoy the process of learning their new role, getting to know their colleagues, and slotting into our culture. We place high importance on personal development, providing time, resources, mentorship, and coaching so people can move in the direction they want to. At the heart of our people strategy are the 13 Employee Resource Groups (ERGs), which represent and support our diverse talent. 
3. Intuit aspires to be a workplace that encourages diversity, inclusion, belonging and equality. How does the work you do support this?
I am one of three global leaders of the Intuit Pride Network, our ERG that supports and represents our LGBTQ+ employees. Together, we work to empower our people by educating the entire workforce on the LGBTQ+ community and issues they face, through events, panel discussions, fireside chats, manager education, and resources. 
In the last 2 years we've worked hard to educate our people on displaying their pronouns in their email signatures and messaging apps to create space and safety for our employees to express their identity freely. 
4. What inspired you to take on a leadership role with the Pride Network?
The first ERG role I took was local Pride Co-Chair for the London site. Having been at Intuit for just over a year at that point, I hadn't experienced much from the Pride network and I appreciated that there was only one Chair at the site so I wanted to work with them to evolve the network's presence at the site.
Having seen all the positive impact I had helped create as a local Pride Chair, when the global leadership position became available I was excited to create that impact on a larger scale, using everything I learned as the London Chair and the skills I bring from my main role at Intuit.
5. What makes the Pride Network special to you?  
The Pride Network stands for so many inspiring things, and the most special for me are resilience and hope. Our community has fought so hard for the right to be ourselves, that we have changed laws, mindsets, perceptions, and shifted the narrative. Of course there is a lot of work to be done around the world, but the grit and resilience that the LGBTQ+ community has demonstrated throughout history inspires hope that one day we will all just be people who are free to just be. 
6. Tell us a little bit about what you're working on to support the Intuit Pride Network. 
Currently we are working on delivering on our strategy for Pride month, "Reconnecting with Pride." After June we'll be working on our strategy for the next fiscal year, which starts in August. 
Our next big event will be the Out & Equal Workplace Summit in Las Vegas, where we are hoping to gather all our local chairs. The summit will serve as a springboard for our strategy, inspiring fresh and diverse thoughts which we can bring back to our people.
7. Walk us through a typical day for you as an employee and as a leader of the Intuit Pride Network. 
I am based in the UK so start with activities related to my role here. As the day goes on I tend to have more interactions with our other markets and towards the end of my day I typically have meetings with US folks, who are just starting their day. Working across time zones can be challenging so it's important to set boundaries, communicate clearly and often, and make good use of asynchronous tools. 
My Pride ERG co-leads and I have split our global sites between us by time zone to make sure we're able to support our local chairs during their working hours. I've learned to be kind to myself when wearing multiple hats as an employee and as a leader. I have a family and 2 young children so it's important for me to establish a synergy between work and family life. What gives me confidence to navigate this entire landscape is that I feel supported, both at work and home.
8. What's a piece of advice you'd give to someone who wants to be an ally of the LGBTQ+ community?
The first piece of advice I would give is be curious and strive to educate yourself as much as possible. Your point of view is based on everything you have experienced so far in your life. If you haven't had exposure to the LGBTQ+ community, you won't have a well-rounded understanding or point of view. Strive to educate yourself by reading books and blogs, listening to podcasts, and by watching movies and TV series. 
The second piece of advice would be, act on your allyship. When you hear or see something that you know isn't right, take action. Allyship isn't about tolerating diversity, it's about enabling it and acting on injustice, especially when you're not in the presence of LGBTQ+ people. An ally is someone who has my back when I'm not there.
—–
At Intuit, we're passionate about making sure that everyone can show up as their authentic self at work. If you're looking for an inclusive workplace focused on creating innovative solutions that power prosperity around the world, visit our careers website to learn more and apply for open roles.